Background and Objectives
Commencement of Project :July 2007
Duration of Project : 3 years
Counterpart (CP) Agency: Tehran Disaster Mitigation and Management Organization
The project on the Establishment of Emergency Response Plan for the first 72 Hours after an Earthquake in the Islamic Republic of Iran aims to enhance emergency response capacity for the priority activities for the first 72 hours after the earthquake. The main targets of the project are (1) to develop and operate Quick Damage and Loss Estimation (QD&LE) system, and (2) to develop and improve emergency evacuation plan and its capacity.
Outline of the Study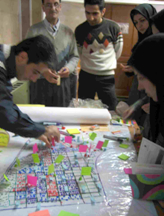 In this project, the system of QD&LE has been designed and related data has been updated. 10 seismometers have been procured and ready to be installed at selected sites within Teheran City. Transmission network is going to be established. In addition, Evacuation Guideline has been developed for Teheran City. Diagnosis maps and evacuation maps are prepared for the pilot areas in District 2 and 17. Disaster Imagination Game, which is one of the methods of table-top training and is prevalent as a disaster management training tool for public officials, has been introduced and verified the evacuation plan.
Highlights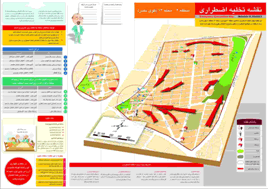 By installing and operating the QD&LE system, if earthquake occurred, within 30 minutes TDMMO would know information of peak ground acceleration, building damages, and human casualties etc. By such information, effective emergency operations are expected. As for the activity of evacuation plan, not only TDMMO but also district disaster managers are trained to conduct "Town Watching" and "Disaster Imagination Game" which is a method of table top exercise. Further more, evacuation maps are to be distributed among residents in the pilot areas and evacuation drills are conducted, followed by awareness raisin and explanatory sessions.