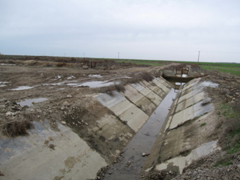 Background and Objectives
JICA development study "the Study of Improvement of Irrigation, Drainage and Agricultural Development for Gorgan Plain, Golestan Province (hereinafter "the Study), was conducted from 2002 to 2003 in Tazeh Abad area. The recommendations from the Study were adopted by Iranian Government and the infrastructures for farming were equipped by Iranian budget. However, the irrigation facilities that were installed by Iranian government have not been sufficiently utilized, due to (1) lack of sufficient farming instruction for farmers, (2) weakness of farmers' organization (especially on water management), (3) incompletion of irrigation control plan, (4) lack of continuous maintenance of canals. Therefore, the agricultural productivity is stayed in low and farmers' income has remained in a low level. In such a background, the Government of I.R.Iran requested this technical cooperation project to the Government of Japan in order to introduce "Participatory Water Management System(1)" to materialize the optimized water management and to improve the agricultural productivity which will eventually contribute to the increase of farmers' income in the area.
(1) "Participatory Water Management System" is the system, through which farmers will be able to achieve an effective utilization of irrigation facilities, sufficient conduct of water management plan, and adequate implementation of farming system.
Implementation Period:5 years from January 2009
Executed Organization:Ministry of Jihad-e-Agriculture (MOJA)
Outline of the Study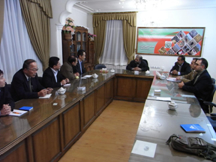 In this project, "Participatory Water Management System" is to be promoted in Tazeh Abad irrigation area, one of 40 irrigation areas in Golestan Province.
At first, the model is to be rooted in a selected pilot site in Tazeh Abad area. Second, the model will be extended to the remaining area in Tazeh Abad. In addition, the project is aiming at capacity building of the staff in JAO of Golestan Province as well as strengthening of structure in JAO of Golestan Province for extension of the model.
Highlights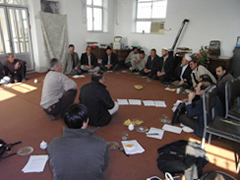 Investigation on farming system in Tazeh Abad Area, as one of the baseline survey, is now in progress to clarify present condition and issues.
Based on the results of the survey, an effective and efficient operational plan for five years will be finalized in details through discussion with Iranian counterparts.