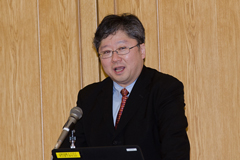 Yasuyuki Sawada, a visiting fellow at the JICA Research Institute (and professor at the University of Tokyo), has assumed the office of the Chief Economist for the Asian Development Bank (ADB) in March of 2017. Before he moves to his new post, an open seminar was held on February 17 at the JICA Ichigaya Building to discuss changes in development economics and future issues as well as to review Sawada's work at JICA-RI.
In his opening address, JICA-RI Director Naohiro Kitano praised Sawada's accomplishments, saying, "Professor Sawada has conducted field experiments in developing countries for many years to quantitatively demonstrate the impact of infrastructure projects on the reduction of poverty and has shown the multifaceted outcomes of infrastructure projects. He has called attention to the importance of evidence-based development approaches and made outstanding achievements. Up to this point he has presented eleven working papers and has been a constant inspiration to us."
Sawada then took the rostrum and gave a presentation regarding transitions in development economics. He pointed out that, although development economics gained popularity in the 1950s and 1960s, the field was stagnant for some time after this. He explained that its "revival" in the first decade of this century came about due to a "field experiment revolution" that entailed not only theoretical research and the use of existing data but researches in which researchers utilize data gathered through their own field experiments in developing countries to analyze causal relationships and provide feedback to policymakers.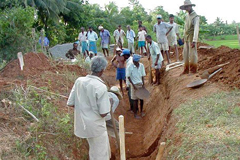 Sawada introduced four research projects he conducted at JICA-RI as examples. He analyzed the impact of irrigation infrastructure on poverty reduction in Sri Lanka, and found that irrigation made rice cultivation possible in the dry season, thereby leading to improvement in the financial circumstances of farmers. He also found it had a positive effect on social capital through strengthening relationships of trust with others. Sawada also introduced his research on the impact of the "School for All" project to support the improvement of school management of primary education through community participation and improvement of governance in Burkina Faso, his research on the impact of the Maternal and Child Health (MCH) Handbook on the health of mothers and children in Palestine, and his research identifying the causes of the "miraculous" economic and social development in Bangladesh.
In regard to future issues, he explained there is a need for assistance with infrastructure to correct market failures, support for governance to minimize governmental failures, and community mechanisms to supplement those functions. In other words, precise support to encourage the accumulation of social capital is required. Sawada also pointed out that field experiments are a powerful analytical tool in carrying out such interventions. On the other hand, he added that field experiments were merely one tool and that it was at times difficult to measure effects, such as evaluating the impact of large-scale infrastructure projects, so it was important to have a sense of balance when coping with important research issues. In that context, Sawada emphasized the need to collaborate with research divisions in different fields or with governmental agencies, international organizations, and private businesses.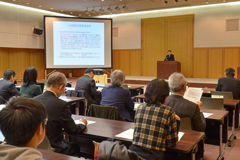 JICA Chief Economist Koki Hirota gave the closing remarks, expressing his desire to continue close cooperation with Professor Sawada in the future.
Sawada expressed his aspirations, saying "There is still room for improvement in the link between actual practice and research, such as creating a system for researchers to support the work of those who implement assistance. I hope to work proactively at the ADB to serve as a bridge for that link."
YouTube
Interview: 'Appointed as Chief Economist for ADB' with Yasuyuki Sawada, JICA-RI Visiting Fellow
(YouTube:JICA Research Institute Official Channel)
Interview: 'Impact evaluations in modern development economics' with Yasuyuki Sawada
(YouTube:JICA Research Institute Official Channel)