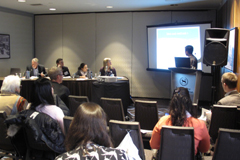 JICA Research Institute's Tetsuya Kamijo attended the 37th Annual Conference of the International Association for Impact Assessment (IAIA), held in Montreal, Canada, between April 4 and 7. He presented on environmental impact assessment (EIA) in developing countries.
The conference comprised 140 sessions, with more than 1,000 participants registering for it, including scholars and aid practitioners from all over the world.
In a session on IA Effectiveness in Development Cooperation, Kamijo spoke about how the EIA system in developing countries could be improved by discussing associated problems and solutions based on his quantitative textual analysis of 82 publications on EIA in developing countries.
He pointed out that the focus has shifted from institution building of EIA to improving the environmental impact statement (EIS) even in developing countries. He explained that improving EIS could effectively solve the current constraints on EIA systems.
In a subsequent Q&A session, the audience asked questions on topics such as concrete methods to improve EIS. Kamijo answered the questions, stating that alternative analyses and public involvement could help improve EIS quality.
He participated in sessions on biodiversity, public involvement and safeguarding for aid agencies and exchanged ideas with the participants.

Representatives from the JICA Global Environment Department and the JICA Credit Risk Analysis and Environmental Review Department also attended the conference and presented the results of their research.