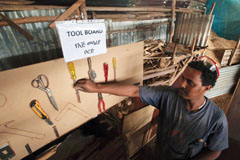 The Global Development Network (GDN), a network of researchers from the developing and developed countries, and JICA Research Institute (JICA-RI) have launched the joint research project "Productivity Improvement in the Private and Public Sector: Roles and Lessons from KAIZEN Approaches." The project conducts research on the Japanese-style method of improving productivity and controlling quality, known worldwide as "Kaizen." As a kickoff meeting for the project, JICA-RI hosted seminars, site tours and workshops for the writing teams consisting of GDN researchers from Brazil, Ghana, the Philippines and Vietnam over a period of four days from June 19 to 22, 2017.
On June 19, a seminar to deepen knowledge about Kaizen was held at JICA-RI. The first speaker was Tsuyoshi Kikuchi, Senior Adviser with Japan Development Service, who has been serving as a JICA expert to disseminate Kaizen in developing countries. Kikuchi explained the concept of Kaizen and its history in Japan and presented about the dissemination of Kaizen through Japan's ODA. Next, Hiroyuki Tomita, Director of the Private Sector Development Group of JICA's Industrial Development and Public Policy Department, introduced JICA's efforts in private-sector development. Kimiaki Jin, Senior Assistant Director of the Private Sector Development Group, then introduced the Kaizen project in Ethiopia.
Three co-editors for the joint research each followed to give a presentation.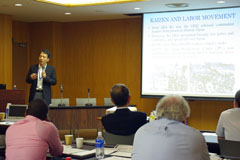 Go Shimada, JICA-RI Visiting Scholar and Associate Professor at the University of Shizuoka, gave a report of the joint research with Tetsushi Sonobe of the National Graduate Institute for Policy Studies on the impact of JICA's Kaizen projects in eight Central American countries on employees' labor conditions and wages. The study collected and analyzed data from managers and employees at 276 companies that had implemented Kaizen and those that had not. The results indicated managers felt implementation of Kaizen had changed the workstyles of employees for the better, and the employees' level of participation had been strengthened. However, the acceptance and establishment of new Kaizen initiatives by employees in particular was recognized as being something that takes time. Shimada said this should be taken into consideration in future cooperation.
JICA-RI Senior Research Advisor Akio Hosono explained the virtuous cycle of the uniqueness of Kaizen drawing out people's latent potential through a participatory learning process and leading to improvement of total quality control (TQC). From the perspective of international cooperation as well, Kaizen is an inclusive approach through fostering personnel who participate and think and act on their own initiative. It also improves productivity by eliminating "muri" (overloading), "muda" (waste) and "mura" (inconsistency), thereby contributing to sustainable growth and quality growth.
The Brookings Institution Senior Fellow John Page explained that encouragement of economic activities and structural change under the industrial policy are made possible by regulatory reforms strengthening the capabilities of managers and employees. Page introduced specific examples of management training in India and Tanzania and concluded that Kaizen was a useful approach in improving a company's capabilities.
Q&A sessions were held after each presentation with participants actively posing questions. Among them were the questions "Which is more suited to Kaizen, small-scale investment or large-scale investment?" and "How do you maintain motivation to continue implementing Kaizen?"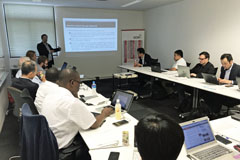 On the second day, June 20, participants visited Toyota's Tahara Plant in Aichi Prefecture and observed Kaizen efforts on the automobile assembly line. They also visited the Toyota Kaikan Museum and the Toyota Commemorative Museum of Industry and Technology. This made it possible to communicate on-site Kaizen activities through Toyota's production methods to the writing teams.
On the third and fourth days, workshops were held at JICA's Chubu International Center. With the experience and knowledge acquired in the previous days, each writing team presented proposals for research contents, followed by discussions with all participants.
Over the four days of this kickoff meeting, editors and writing teams were able to get to know each other and get off to a good start on the joint research. In the future, the first submission of research articles and interim review workshop are planned for February 2018 or later.