Tetsuya Kamijo from the JICA Research Institute presented his results at the Vietnam-Japan-Korea-China Environmental Impact Assessment Conference, held in Da Nang, Vietnam, on August 10–11, 2017. The conference comprised 38 oral presentations attended by about 100 people, including scholars and practitioners, from the four, abovementioned countries.
In a session on Integrated Management and Sustainable Development, Kamijo presented the discussion of alternatives using principle component analysis (PCA). In his presentation, he indicated the problems of the present analysis methods and demonstrated the effectiveness of PCA as a simple method for alternatives analysis. He indicated that PCA could help stakeholders gain a better understanding of alternatives analysis wherein the discussion of alternatives could be improved.
In a subsequent Q&A session following the presentation, the audience asked questions about PCA and the quantitative analysis method. When answering the questions, Kamijo stated that PCA is a simple statistical method used to identify a small number of principle components from a large set of variables; further, this quantitative method is suitable for analyzing many alternatives and evaluation criteria.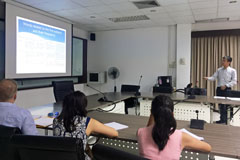 On August 15, 2017, Kamijo presented at the Asian Institute of Technology, Bangkok, Thailand. He introduced the discussion of alternatives in environmental impact assessment using PCA and the improvement of public involvement. About 30 participants, including scholars and post-graduate students, taking part in the Urban Environmental Management course attended the session.
Kamijo showed the positive correlation between the discussion of alternatives and a sense of public involvement based on the result of quantitative text analysis (QTA) of the minutes of the meetings. He explained that the alternatives analysis using PCA could lead to an improvement of public involvement in environmental assessment. The audience asked questions regarding the use of QTA, and Kamijo answered that QTA was a method for analyzing text data using the quantitative analysis method.
These presentations helped promote outreach activities regarding the research results and a network of connections with scholars and practitioners.