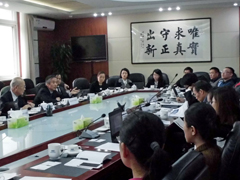 On October 26, 2017, JICA Research Institute (JICA-RI) and the Center for International Knowledge on Development (CIKD), a Chinese research institute for development issues, held their first meeting in Beijing, China.
The CIKD is a research institute newly launched in August 2017 under the Development Research Center (DRC), following the Chinese government's announcement of their concept for a new international development think-tank at the United Nations Sustainable Development Summit 2015. As part of preparations for establishing the CIKD, Officials from the DRC visited JICA Research Institute in October 2016 during their Japan tour for the purpose of exchanging information on the think-tank's administration and organizational design. Naohiro Kitano, Director of the JICA-RI, attended the CIKD opening ceremony in August 2017.

The meeting discussed issues surrounding Asia's Development Approach and SDGs. Japanese participants included Kitano and Yasutami Shimomura, Professor Emeritus, Hosei University. Shimomura made a presentation on "The Role of East Asian Development Approach in the Era of the SDGs," and Kitano presented latest findings on "Harnessing the Data Revolution to Achieve the Sustainable Development Goals: Enabling Frogs to Leap."

Participants from CIKD were Gong Sen, Executive Vice-President, and researchers in diverse fields. Discussions followed with questions regarding Shimomura and Kitano's presentations. Much information and opinions were exchanged, for example, regarding the role of research institutes in achieving SDGs and current research themes. CIKD and JICA-RI confirmed their commitment to continue their cooperation going forward.