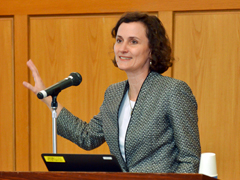 On December 6, 2017, the JICA Research Institute and the World Bank Group co-hosted a seminar titled "The Future of Manufacturing-Led Development." The aim of the seminar was to review the current situation and foresee the future of the manufacturing industry, which has been leading development around the world. A lecture was given by Mary Hallward-Driemeier, World Bank Senior Economic Adviser, Trade & Competitiveness. She is the lead author of "Trouble in the Making? The Future of Manufacturing-Led Development," a report published by the World Bank Group in October 2017. About 120 researchers and practitioners attended the lecture.
In his opening address, Masato Miyazaki, the World Bank's Special Representative in Japan, said that the future of the manufacturing industry, which has played a central role in development strategies has been extremely important for both developing countries and industrialized countries. He said that this report contained much thought-provoking content for thinking about future development issues.
Hallward-Driemeier started the lecture by challenging the opinion that robots are likely to replace all human jobs and stated that while it is necessary to prepare for changes, such changes will also create opportunities. She further mentioned that historically speaking, the manufacturing industry has been thought to lead the development of a country by creating huge number of jobs for low-skilled workers as the industry develops. However, she also pointed out that the manufacturing industry itself is also changing.
She also touched upon changing industries and said that the proportion manufacturing accounts for in the industries has been changing in each country. For example, the manufacturing of high value-added products, such as computers, electronics and machinery, has been declining in high-income countries, except for China, since its peak in the 1990s. Technology is also evolving through the Internet of Things (IoT), much more sophisticated industrial robots, and new digital technologies like 3-D printing.
Further, she explained that the manufacturing industry has come to involve services. For instance, just as smartphone hardware contains a huge variety of software known as "apps," services are now being embedded in "things." She presented the outlook that when thinking of the future of manufacturing industry, it is conceivable that such jobs related to the service industry will become important.

Finally, she mentioned 3Cs—competitiveness, capabilities and connectedness—as necessary elements to generate jobs and utilize new opportunities. She pointed out that low-wage workers are no longer an advantage for attracting the manufacturing industry to developing countries. Developing countries should grasp the opportunities for development by recognizing the change of circumstances, and by mastering new technology through effective utilization of science, technology and innovation.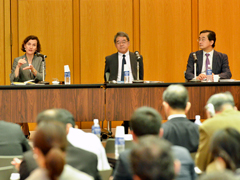 One of the panelists, Shinya Kukita, Chief Engineer, Global Business Unit, NEC Corporation, commented that this report is impressive because it is applicable to a wide variety of subsectors and regions. He said the report is also useful because his company runs businesses not only in manufacturing but also in assisting transformation of manufacturing. Another panelist, Professor Fukunari Kimura at Keio University commented that the manufacturing industry is still necessary for the development of developing countries, but in the long-term, this approach will need to be changed. He added that developing countries face many challenges, such as human resource development, and thus the content of this report should be incorporated in their development strategies.

The audience had a discussion with those on stage by asking questions such as "What kind of impacts would climate change and a shift to a low carbon society have on developing countries?" and "Since industrialized countries are already involved in the development of technology, would the divide with developing countries never be closed?"

At the end of the seminar, Naohiro Kitano, Director, JICA Research Institute, gave a closing address. He explained that the JICA Research Institute is working jointly with the Global Development Network (GDN) in activities related to the 3Cs proposed in this report. Research initiatives are being implemented in countries such as Brazil, Ghana, the Philippines and Vietnam for productivity improvement using Kaizen approaches. A joint research report on innovation utilizing data technology with the Center for Strategic and International Studies (CSIS) has also been published. He ended the address by saying that JICA would like to continue deepening its cooperative relationship with the World Bank on themes of shared interest.