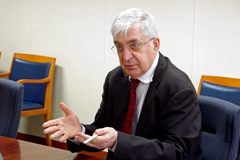 Approximately three years after his last visit, Pierre Jacquet, President of the Global Development Network (GDN), visited the JICA Research Institute (JICA-RI) on Feb. 15, 2018 and exchanged views on a range of development research topics with JICA-RI Director Naohiro Kitano, Deputy Director Nobuko Kayashima, and Senior Research Advisor Akio Hosono.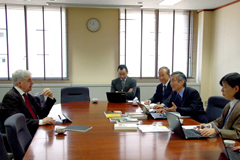 Jacquet began by introducing GDN's new strategy, which rests on three pillars: strengthening research in low capacity environments, delivering high-quality global collaborative research, and putting development research to better use.

Concerning the second pillar, (delivering high-quality, global collaborative research), Jacquet mentioned the three-year joint research project between GDN and JICA-RI, "Productivity Improvement in the Private and Public Sector: Roles and Lessons from Kaizen Approaches." In collaboration with JICA-RI and GDN, which partners with researchers from Brazil, Ghana, the Philippines, and Vietnam, the project aims to analyze the effects of Kaizen, the Japanese management approach for continuous quality and productivity improvement. Jacquet and Kitano confirmed the progress the team has made so far.

Kitano noted that Kaizen has drawn increasing attention from the perspective of innovation, referring specifically to the World Bank's view that Kaizen is an important approach for bringing about innovation, which will contribute to solving various development issues.

Innovation will be the topic of GDN's next annual conference, which is scheduled to be held in India in March 2018. JICA-RI will participate in the conference under the theme "Science, Technology and Innovation for Development."



External Links