2018 marks 150 years since the start of the Meiji Restoration (1868). The JICA Development Studies Program (JICA-DSP) began in earnest in October 2018 to commemorate that landmark. JICA Research Institute (JICA-RI) is contributing to the implementation of JICA-DSP and the accumulation and organization of interdisciplinary knowledge common to the programs of each participating university.

JICA-DSP invites future leaders from developing countries to Japan and offers them an opportunity to learn about Japan's experience of modernization, which differs from that of the West, and Japan's expertise as a donor country that assisted other countries after World War II. The objectives of the program are not only for international students from developing countries to engage in research in their respective specialized fields but also for them to systematically learn about Japan's experiences and put them to use in their home countries' development.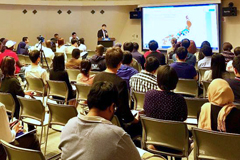 JICA is partnered with 19 universities in Japan to offer a variety of courses in four areas: 1. law and politics, 2. economics, 3. social development and 4. science and technology. Examples of the courses include "Japan's Modernization Experience and ODA Policy," "Japan's Process of Setting Financial and Monetary Policy" and "Japan's Pollution Problem and the Process of Solving It." JICA-RI is contributing to the programs of Kyoto University, Kobe University, the International University of Japan, the National Graduate Institute for Policy Studies, the University of Tsukuba, the University of Tokyo, Hitotsubashi University, Hiroshima University, Ritsumeikan University and Waseda University, mainly in the areas of law and politics, economics and social development.

Within the context of JICA-DSP, the Japanese Development Program (JDP) at the International University of Japan started with input from JICA in October. On Oct. 5, JICA President Shinichi Kitaoka gave a kick-off lecture entitled "Japan's Modernization and Yukichi Fukuzawa" at the university under a JDP-related course called "Japanese Foreign Assistance Policy and Its Impact on Development."

By implementing JICA-DSP, JICA-RI is aiming to unearth Japan's hidden development experience, researchers and research results, adapt them and put them to use in the field of development cooperation.