Izumi Ohno, director of the JICA Research Institute (JICA-RI) participated in the Global Think Tank Summit (GTTS) 2018 held in Brussels, the capital of Belgium, on Nov. 7-9, 2018.

The GTTS was started in 2014 as an initiative of Professor James McGann, director of the Think Tanks and Civil Societies Program (TTCSP), Lauder Institute, University of Pennsylvania, in the U.S. Researchers from think tanks gather from around the world every year for the event. JICA-RI has been participating since 2016.

This year's theme is "Think Tanks: A Bridge over Troubled Waters and Turbulent Times." Representatives of 120 think tanks from 51 countries discussed the role of think tanks in a time when populism, putting one's own country first and protective trade are on the rise, but there is a need for international cooperation to solve problems that transcend national borders, including economic disparities, climate change, and immigration and refugee crises.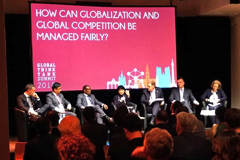 Ohno took part in the Nov. 7 session "How can globalisation and global competition be managed fairly?" With Aart de Geus, chairman of Bertelsmann Stiftung in Germany, serving as moderator, participants from the African Center for Economic Transformation (ACET); the Institute of World Economics and Politics, Chinese Academy of Social Sciences (CASS); the Peterson Institute of the U.S.; the Institute of Economic Affairs, UK; and the McKinsey Global Institute in Switzerland exchanged opinions.

Emphasizing the importance of international cooperation, Ohno said, "As the research wing of the aid agency of Japan, which has experienced catching up with the West, JICA-RI wants to provide practical expertise that contributes to solving specific problems facing developing countries to achieve a sustainable and inclusive world, a goal set forth in the 2030 Agenda."

Through this session, the participants agreed that globalization is not a zero-sum game, but has positives and negatives, and that the development component is important for realizing fair globalization. For example, it is difficult for African countries to meet EU standards for food exports, and there is a need to strengthen their capacity to do so.
On Nov. 8, a Think Tank CEO panel was held, in which representatives of think tanks from six countries introduced their organizations' initiatives. Ohno, who was part of the panel, emphasized that "It's useful to analyze issues facing the world today and to propose policies, but an intellectual contribution toward solving the root causes of these problems is also important. For example, the disparities behind populism, the conflicts at the root of refugee crises, and various issues related with global warming. JICA has been operating a wide range of projects in developing countries and can provide practical expertise to solve development problems. This is what we regard as our comparative advantage."

GTTS 2018 was an opportunity, in an era when the world is facing complex, difficult and varied problems, to reconfirm the importance of the role of think tanks of analyzing and proposing policy while maintaining neutrality, and the significance of maintaining think tank communities such as GTTS.