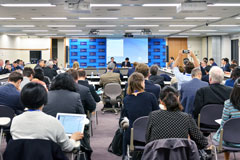 Following the Think20 (T20) Japan 2019 Plenary Sessions of Inception Conference held in Tokyo on Dec. 4, each of the T20's Task Forces had its first discussion session on various venues on Dec. 5 and 6 2018.

T20 is a G20 Engagement Group where think tanks from various countries gather to discuss policy issues and offer policy recommendations to G20. Task Forces for ten different policy fields were initiated in preparation of the T20 Summit scheduled to be held in Japan in June 2019. They will create policy briefs to be incorporated into the Communiqué with policy recommendations to the representative of the G20 host country. The JICA Research Institute (JICA-RI) co-chairs Task Force 1 "2030 Agenda for Sustainable Development (SDGs)" and Task Force 5 "Cooperation with Africa."

In the sessions by each of the Task Forces, participants discussed proposed topics of policy briefs, schedules and more. Later, the direction of each Task Force's policy brief was shared at Asian Development Bank Institute (ADBI).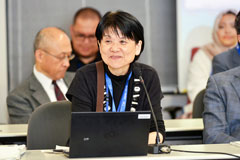 As a lead co-chair, JICA-RI Director Izumi Ohno reported on Task Force 1. They discussed the topics of universal health coverage (UHC), education, global institutional and financing issues, the role of the private sector and gender, as well as the importance of technology in achieving SDGs.

Ohno elaborated on each of the five topics. On UHC, an important issue in Japan as well, they went on to discuss how it can be accomplished in accordance with G20's goal. On education, they reviewed the progress made thus far and further discussed the themes of improvement of quality of education, socioemotional skills, early childhood development, science, technology, engineering and mathematics, and girls education. On global institutional and financing issues, they discussed the roles of public and private sectors in promoting sustainable financing, the global mechanism for sharing information on development financing, and funding for international public goods.

On the role of the private sector, they reviewed the crucial impact of businesses on achieving SDGs, then discussed issues such as specific actions for raising awareness of SDGs in companies, how to shift the mindset of all stakeholders, and how to help companies in developing countries join the global value chain. Ohno said, "We must offer incentives for companies to turn their attention to sustainable supply chain management, and build reciprocal partnerships between companies, governments and citizens."

Lastly, on gender, she pointed out the cross-sectional quality of the topic, the necessity of monitoring governance in private and public sectors, and the importance of cooperating with other Task Forces and Engagement Groups such as W20 (women) and C20 (civil societies).

Elizabeth Sidiropoulos, South African Institute of International Affairs (SAIIA) and co-chair of Task Force 5 "Cooperation with Africa" commented that this is the only Task Force confined to one region, and because it shares many issues with the other Task Forces it is important that information is exchanged. She reported that the policy brief will focus on the following themes: fiscal and debt sustainability in Africa, Compact with Africa (an initiative from G20 Germany to promote cooperation with the private sector and investment in Africa), industrial development and ICT, agricultural development, food security and nutrition, governance conditions and social effects, health, and tax challenges of digitalization in Africa .

Each Task Force will create their policy briefs by March 2019. T20 plans to submit a Communiqué with policy recommendations to the representative of the G20 host country at the end of May 2019.