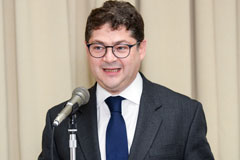 On April 15, 2019, JICA Research Institute (JICA-RI) co-sponsored the seminar "Promoting Gender Equality through Private Sector Development: EBRD's contributions to Sustainable Development Goals (SDGs)" with the European Bank for Reconstruction and Development (EBRD). Pierre Heilbronn, vice president, Policy and Partnerships, EBRD, spoke at JICA-RI. Attendees included JICA-RI staff members and personnel from private companies.
Established in 1991 following the end of the Cold War, the EBRD is an international financial institution that supports more than 30 countries, from Central Europe to Central Asia. In recent years, it has expanded its operations to Egypt and Morocco. It has been proactively incorporating gender and financial inclusion in its main business of financing in a way that integrates investment and policy engagement. It also proactively supports overseas investment projects by Japanese companies.
As one part of its efforts toward achieving the sustainable development goals (SDGs), JICA aims to solve development problems via investment and business by Japanese companies through Private Sector Investment Finance projects and JICA's Overall Support for Japanese SMEs Overseas Business Development with gender inclusivity at every stage. In his opening address at the beginning of the seminar, JICA-RI Deputy Director Yasuo Fujita said that the role of not just the public sector, but also the private sector, is indispensable to achieving the SDGs, and that the seminar would be a good opportunity to discuss this topic.
Next, Heilbronn took the podium. He talked about how the EBRD adopted the "Strategy for the Promotion of Gender Equality" in 2016 and the "Economic Inclusion Strategy" in 2017 as strategies for advancing gender equality and economic inclusion through improved access to employment and skills, financial support for entrepreneurs and public services. He then presented specific good practices based on these two strategies. In Turkey, job training for young people at a tire maker resulted in an increased employment rate for women. In Kazakhstan, in a joint effort with the government to call for the abolishment of restrictions on women's employment, 100 out of 300 occupations that had banned women saw the bans removed in just three years.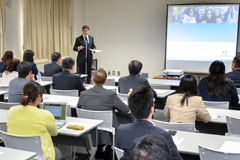 He also referenced the EBRD's "Women in Business" program. This program offers both business advice and financing to women who want to start businesses, and it is already assisting more than 35,000 women in 18 countries. Having a holistic approach to gender and economic inclusion and working with the private sector really make a difference, far exceeding the effect of the traditional method of pushing development through subsidies and grants, he said.
During the question and answer session, a participant asked about specific policies for encouraging companies to accelerate their gender equality initiatives. Heilbronn responded that, for example, the EBRD makes raising the rate of employment of women a condition of investing and collaborates with consultants to support companies in achieving that condition after a project begins. There were numerous other questions asked and a lively exchange of opinions.