Representatives of leading think tanks from around the world gathered in Tokyo on May 26-27 for the Think20 (T20) Summit, where they presented and discussed their policy recommendations for the G20 leadership summit on June 28-29 in Osaka. The theme of the T20 Summit is "Seeking a Sustainable, Inclusive and Resilient Society."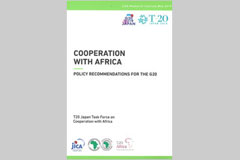 Ten task forces developed policy recommendations ahead of the summit. Task Force 5, coordinated by JICA Research Institute (JICA-RI), is focused on cooperation with Africa. (JICA-RI also coordinates Task Force 1, which deals with "2030 Agenda for Sustainable Development.")
Despite recent progress, many African countries still face development barriers, including debt management, agricultural development, food security and insufficient industrial competitiveness. However, Africa can tap into new trends such as the development of value chains in agriculture and industry, and leapfrog innovative technologies. Against the backdrop of these African challenges and potential, Task Force 5 has discussed ways Africa can get out of challenges it faces, focusing on fiscal and debt sustainability, the G20 Compact with Africa (CwA), industrial development, agricultural development, food security, governance, and taxation.
The task force has produced six policy briefs. The two-day summit included the following three Task Force 5 panel discussions:
Fiscal and Debt Sustainability and Domestic Resource Mobilization in Africa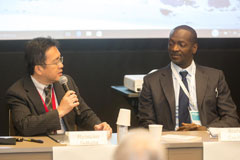 Ryosuke Nakata, JICA chief economist, navigated the discussion as moderator. Kapil Kapoor, African Development Bank, recommended that the G20 should support African countries in areas such as swift reporting of debt and developing effective debt resolution frameworks which cover various lenders. Nara Monkam, African Tax Administration Forum, emphasized that the G20 should support a global and inclusive discussion on a new approach to taxing the digitalized economy that takes Africa's interests into consideration. Brahima Coulibaly, the Brookings Institution, confirmed that there are issues regarding debt difficulties emerging in some of African countries. In response to questions, the speakers further discussed about transparency and risks in external financing, domestic resource mobilization, and role of G20 and multilateral development banks.
Policy Brief
・Fiscal and Debt Sustainability in Africa
Promoting Private Sector Investment and Industrial Development in Africa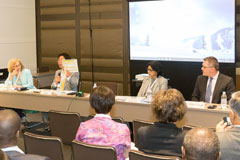 Rob Floyd, African Center for Economic Transformation, presented the progress and challenges of Compact with Africa (CwA) and T20 recommendations to the G20 for advancing CwA. Anita Prakash, Economic Research Institute for ASEAN and East Asia, made recommendations on Africa's industrial development with emphasis on digitalization and information and communication technology (ICT). Masahiko Kiya, ambassador for Tokyo International Conference for African Development (TICAD), welcomed of this policy brief, and commented that the synergy of the G20 summit and TICAD7 would be explored for increasing investment in Africa. Elizabeth Sidiropoulos, South African Institute of International Affairs, moderated this session.
Policy Brief
・G20 Compact with Africa
Agribusiness Development and Food Security in Africa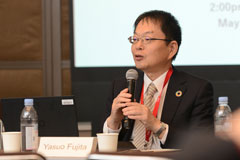 Belay Begashaw, SDG Center for Africa, presented recommendations to the G20 for linking smallholder production with the value-added food market and improving food security in Africa. Yasuo Fujita, deputy director of JICA-RI, supplemented the recommendations by presenting a strategy for green revolution for rice in the region and difficulties, including weak local value chain, faced by a Japanese agribusiness firm. Chuanghong Zhang, China Agricultural University, pointed out that poor infrastructure and insufficient technology are significant constraints for African farmers. Chiristine Heckenesch, German Development Institute, moderated discussions. The panelists and participants shared complex challenges and the future potential of Africa's agriculture, and the necessity of G20's concerted actions.
Policy Brief
・Linking Smallholder Production with Value-Added Food Markets
JICA-RI News Articles Related to the T20 Summit