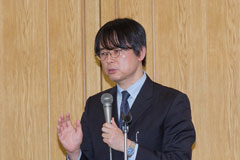 Kazuo Kuroda, a visiting research fellow at the JICA Research Institute (JICA-RI) and a professor at Waseda University, has received the Universitas 21 (U21) Award for 2019.

The U21 is a global network of research-intensive universities that endeavor to enhance collaboration across borders and promote the exchange of global knowledge. The U21 Awards recognize excellence among member universities in the internationalization of higher education.

Kuroda's recent research focuses on international cooperation and global governance in education from the viewpoint of the Sustainable Development Goals. He introduced double degree programs to Waseda University, with his initiatives including cross-border collaborative degree programs in East Asia, particularly between China and Japan. These achievements, along with his pivotal role as a JICA-RI visiting fellow, have contributed to him winning this award.

As a JICA-RI researcher, Kuroda co-authored two JICA-RI working papers relating to Cross-Border Higher Education for Regional Integration and the Labor Market in East Asia, a JICA-RI research project that spanned for five years starting from 2008. The working papers based on the project are No. 26 "Cross-Border Higher Education for Regional Integration: Analysis of the JICA-RI Survey on Leading Universities in East Asia" and No. 39 "Cross-Border Collaborative Degree Programs in East Asia: Expectations and Challenges." He also co-authored one of the background papers for the 2019 Global Education Monitoring Report.

Related Links
YouTube
Interview: "Inclusive education will improve the quality of education," with Kazuo Kuroda, JICA-RI(YouTube: JICA Research Institute Official Channel)