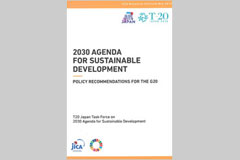 The 2030 Agenda provides a universal framework for both developed and developing countries to achieve sustainable development. The implementation process of the 2030 Agenda for all must take into account different national realities, capacities, levels of development and priorities.
As intellectual input for the G20 Summit in Osaka, JICA Research Institute (JICA-RI) has contributed to producing policy recommendations, as policy briefs for T20 Task Force 1 - 2030 Agenda for Sustainable Development, presented at the Think20 (T20) Japan Summit held on May 26 and 27, 2019.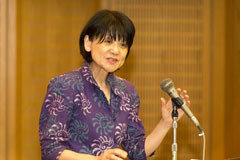 On May 28, a T20 official side event, "Where are we at with SDG Progress?—Perspectives from around the Globe," was held at JICA-RI in collaboration with Southern Voice, which operates a research network of over 50 think tanks in developing countries. Researchers from Asia, Africa and Latin America appeared as panelists to review the progress of SDGs in different parts of the world, and to call for accelerated implementation. The event provided opportunities for mutual understanding about how the SDGs are being translated into government policies and specific actions in light of the local circumstances in each region and country, and what the challenges are.
JICA-RI Director Izumi Ohno described the significance of the event in her opening address. She emphasized the importance of considering perspectives from each individual country or region when working on SDGs. In this regard, the gathering of researchers from around the globe is an excellent opportunity to learn about these perspectives.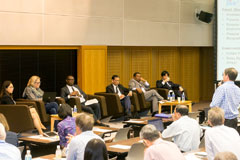 The panel discussion was moderated by Estefania Charvet, Southern Voice program officer, with the participation of three panelists: Associate Professor Rebecka Villanueva Ulfgard of the Mora Institute (Mexico), Senior Research Fellow Adedeji Adeniran of the Center for the Study of the Economies of Africa (Nigeria), and Distinguished Fellow Mustafizur Rahman of the Centre for Policy Dialogue (Bangladesh). Following Charvet's introduction on Southern Voice's initiatives, the panelists discussed the challenges of implementing the SDGs across different regions, as well as the progress made so far. Discussion focused on the five issues: policy alignment, institutional structure, resource mobilization, partnerships and participation, and data and accountability.
Policy Alignment and Institutional Structure:
Villanueva Ulfgard explained that Mexico's national development plan was prepared with strong alignment to the SDGs principle of "Leaving no one behind." Rahman then touched on diversity in Asia and pointed out the need for striking a balance between food security (SDG 2) and impact on the climate (SDG 13) through policy coordination across ministries.
Resource Mobilization and Partnerships and Participation:
Adeniran shared the challenges of Africa where more than a few countries have faced a debt problem, referring to specific countries including Zambia. Ulfgard then reported on the growing importance of approaches that mobilize private financing such as PPP (public private partnership), while Rahman informed that movements involving NGOs are gaining traction in many Asian countries.
Data and Accountability:
Adeniran discussed expectations for utilizing big data to track the progress of SDGs, including the environmental field, while Rahman pointed out the difficulty of gathering data from marginalized people and groups living in remote locations.
Kotaro Katsuki, director, Global Issues Cooperation Division, International Cooperation Bureau of the Ministry of Foreign Affairs of Japan, spoke as a commentator and shared the initiatives in Japan, which has established the SDGs Promotion Headquarters headed by the Prime Minister and consisting of all cabinet ministers. He stated that the upcoming 2020 Tokyo Olympic and Paralympic Games and the World Expo 2025 in Osaka, will be a good opportunity for promoting the SDGs. Belay Begashaw, Director General of the Sustainable Development Goals Center for Africa, emphasized how we can actually translate the global targets into country-specific ones taking account of respective local, social and economic context is most important in order to design a path forward for achieving the SDGs.
JICA-RI News Articles Related to the T20 Summit
External Related Links