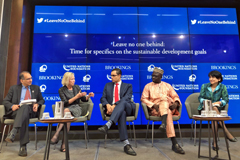 In conjunction with the Annual Meetings of the World Bank Group and International Monetary Fund in Washington, D.C., JICA Research Institute (JICA-RI) held a launch event for the book "Leave No One Behind: Time for Specifics on the Sustainable Development Goals" at the Brookings Institution in Washington, D.C., on Oct. 18, 2019. Approximately 90 people, including researchers, aid practitioners, NGO workers and students, participated in this second launch event, which followed one held in New York on Sept. 23. JICA-RI Director Izumi Ohno also participated.

The book was published in October 2019 as a result of a joint study by JICA-RI and Brookings. The book urges people not to let "Leave No One Behind" (LNOB) be a mere slogan for achieving the sustainable development goals (SDGs), but also to put it into practice with a focus on specific people, places and issues that are easily left behind.

At the beginning of the event, John McArthur, a senior fellow at Brookings, took the stage to emphasize that although climate change tends to be a focus of attention in the SDGs, it is also important to specifically address human-centered issues. Ohno then introduced JICA's initiatives to achieve the SDGs. In her presentation, she explained that "human security," which JICA has committed to work on as its mission, shares a common axis with the "a world where no one is left behind" concept, helping to protect all people from threats such as poverty, conflict, war and disasters, and providing opportunities and options for individuals to realize their potential.

Next was a panel discussion moderated by Brookings Interim Vice President Homi Kharas. UN Foundation President and CEO Kathy Calvin; Dominican Republic Minister of Economy, Planning and Development Juan Ariel Jimenez; Minister and Special Advisor to the President of Niger Ibrahima Guimba-Saïdou; and Ohno took the stage as panelists and held a discussion from the perspective of developing countries. Participants pointed out that national information alone is insufficient to practice LNOB, and that it is important to use technology to collect and analyze data and provide services, to make efforts at the local level, and to have a platform for collaborating with a variety of stakeholders. At the same time, participants affirmed that though traditional inter-governmental development cooperation remains important, there is a need to strengthen new approaches, such as collaboration with the private sector, research institutes and local governments.