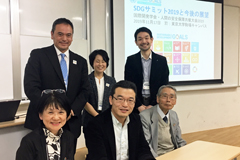 The 2019 Joint International Conference organized by the Japan Association for Human Security Studies (JAHSS) and the Japan Society for International Development (JASID) was held at the Komaba Campus of the University of Tokyo on Nov.16 and 17, 2019. Participants from the JICA Research Institute (JICA-RI), including Director Izumi Ohno and research fellows, gave presentations on JICA-RI's research results.

Ohno participated as a panelist in a round-table discussion, which featured "Sustainable Development Goals Summit 2019 (SDG Summit 2019) and the Future," and reported on JICA-RI's contribution to T20 Japan 2019 process and the results of joint research carried out between JICA-RI and the Brookings Institution that focused on a core principle of the SDGs "Leave No One Behind." With Masato Noda, an associate professor at Ibaraki University, serving as moderator, the discussion featured Ohno together with Aya Yoshida, director of the Global Issues Cooperation Division, International Cooperation Bureau, Ministry of Foreign Affairs; Masaki Inaba, policy advisor for the Japan Civil Society Network on SDGs; and Professor Emeritus Ryokichi Hirono of Seikei University. Active discussions took place over how to achieve the SDGs during the remaining 10 years until 2030 and why it is important to shed light on Human Security in today's globalized context.
JICA-RI's research fellows also presented their research results, as seen below, with respect to each of JICA-RI's research clusters.
Economic Growth and Poverty Reduction
Senior Research Fellow Hiroaki Asaoka and Research Fellow Eiji Yamada hosted, together with the Graduate School of International Cooperation Studies at Kobe University, a thematic session with the topic "Empirical Analysis of Infrastructure Projects Using Micro Data." Taking the JICA's grant aid project "Project for Improvement of the Water Supply System," conducted in Mandalay, Myanmar as a case study, Asaoka presented an analysis of the residents' use of bottled water and their willingness to connect to the water supply system. Yamada presented an analysis concerning the impact of the Delhi Metro on the employment of women in Delhi, India. These presentations showed the various effects and impacts of infrastructure projects.
Human Development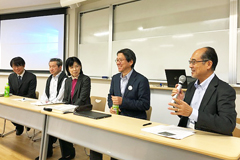 Building on the research outcomes presented in JICA-RI's book entitled "Japan's International Cooperation in Education: History and Prospects" (Japanese language only), JICA Senior Vice President Nobuko Kayashima, JICA-RI Visiting Fellow Kazuo Kuroda (professor at Waseda University) and Professor Kazuhiro Yoshida of Hiroshima University presented in a roundtable session. While reflecting on Japan's international cooperation policies and implementation in the education sector to date, they discussed the importance of global governance as exemplified by the SDGs and ways that Japan can contribute. Professor Motoki Takahashi of the Graduate School of Asian and African Studies, Kyoto University and JICA-RI Visiting Fellow Yoichi Mine (professor at Doshisha University) served as commentators, raising important issues for discussion. These included whether international cooperation policy and principles contradict or coexist with implementation on the ground and how to reconcile global governance discourses with Japan's approach of prioritizing the needs of developing countries.
Peace and Development
Senior Research Fellow Ako Muto and Research Fellow Rui Saraiva presented the paper, "Assessing Context-Specific Peacebuilding Approaches in Contemporary Complex, Protracted and Recurring Armed Conflicts: From Mediation to Reconstruction in Syria and From Direct Dialogue to Trust Building in Mozambique." This paper is one of the outputs of JICA-RI's committed research project "Contextualizing International Cooperation for Sustaining Peace: Adaptive Peacebuilding Pathways". In the case of Syria, the analysis focused on issues related to state sovereignty and empirical sovereignty in the context of the implementation of the humanitarian-development-peace nexus. In the case of Mozambique, the analysis addressed issues related to national ownership in the reformulation of the ongoing Disarmament, Demobilization and Reintegration (DDR) program and in the recent peace process dialogue.
Additionally, Muto and JICA Senior Advisor Sachiko Ishikawa took part in a round table together with Professors Jun Honna and Kenki Adachi of Ritsumeikan University and Associate Professor Kyoko Cross of Kyoto Sangyo University. The discussion was chaired by Professor Naoki Ishihara of Ritsumeikan University with the title "Themes on Human Security in 21st Century: Cases in South East Asia." Muto reported the overall results of JICA-RI's research, "Human Security in Practice: East Asian Experiences," and Ishikawa reported a case study involving Japanese aid in conflict-stricken Mindanao, Philippines.
Global Environment
Executive Senior Research Fellow Ichiro Adachi gave a report on research into an incident of mass fish deaths that took place in Vietnam in 2016 along with an analysis made on the basis of environmental sociology and regime theory as a case study of environmental policy issues in ASEAN countries. A vigorous discussion took place that included comments, such as "it is an effective approach to analyze social responses to environmental issues and the policy-making process from regime theory," and "greater clarity could be obtained by conducting comparative analyses with other countries."
Development Cooperation Strategies
During the session titled Education for Refugees and Migrants, Research Officer Seiko Kaneko gave a presentation on the process of international students becoming skilled human resources in emerging Malaysia. She shared JICA-RI's new research plans to analyze case studies in Malaysia, which, as an emerging economy, is promoting human resource development for the least developed countries. JICA-RI is planning to conduct this research under the framework of the systems approach to international migration as part of the "Research Project on the Japanese Experiences of Industrial Development and Development Cooperation: Analysis of Translative Adaptation Processes." There were questions and comments regarding gender-specific analysis and the contexts that were particularly put into focus by the framework, demonstrating the high level of interest in the session based on the conference's theme of Refugees/Migrants and Education/Employment.
In the session "Approaching to the Historical Studies of ODA", Visiting Fellow Yoichi Mine, professor at Doshisha University, reported on the progress of the JICA-RI's research project 'Japan's Development Cooperation: A Historical Perspective' from the perspective of the oral history of ODA. Motoki Takahashi, professor at Kyoto University, reported on it from the perspective of the history of ideas. The moderator was Visiting Fellow Jin Sato, professor at the University of Tokyo. Takatoshi Oyama, of Kyushu Institute of Technology, who wrote a background paper of the project, started the discussion as a commentator and deepened the discussion with the audience.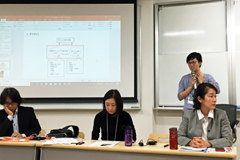 During the thematic session regarding what Japan Overseas Cooperation Volunteers (JOCV) had accomplished in the host communities, Visiting Fellow Yasunobu Okabe (professor at Tohoku University) and Research Fellow Mayuko Onuki gave a presentation called "Social Capital Formation and the Role of JOCVs: Bonding, Bridging and Linking" to share the findings from a JICA-RI research project, "Contributions of International Volunteers in Bringing Change to Developing Countries and Shaping a Global Civil Society." Using the survey data collected from JOCVs, a series of exploratory factor analyses and regression analyses with multiple imputations found that 1) bonding, a type of social capital that forms connections with local colleagues, brings about a variety of volunteer outcomes; 2) bridging, another type of social capital that forms connections with Japanese nationals, non-Japanese foreigners, locals, and other JOCV members in the local area, is also associated with several volunteer outcomes; and 3) assistance from the JICA office (linking social capital) increases the satisfaction level of JOCV members.
Additionally, during the thematic session titled "Long-term Monitoring of Reconstruction Assistance to Conflict-Affected States," Onuki gave a presentation called "Long-term Monitoring in Rwanda: Analysis of Interviews with Beneficiaries" to share interim research results from a project titled "Impact of Intergroup Contact on Reconciliation Among People Who Experienced Violent Intergroup Conflict." Her preliminary analysis of interviews with 52 former beneficiaries of JICA's skills training for Rwandan people with disabilities (21 National Army ex-combatants, 4 Former National Army ex-combatants, 7 Armed Group ex-combatants and 10 civilians) revealed that 1) the life history contexts of civilians with disabilities are different from those of ex-combatants with disabilities in that their self-esteem was increased more dramatically by skills training through different channels and 2) motives for mobilization and discharge, as well as how the life of a soldier is perceived, differed between the three groups of ex-combatants.