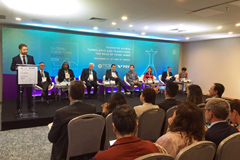 The Global Think Tank Summit (GTTS) 2019 was held on Dec. 11-13, 2019, in Rio de Janeiro, Brazil, with Ohno Izumi, director of the JICA Research Institute (JICA-RI), taking part.

GTTS is an annual meeting of think tanks from around the world, held since 2014 under the initiative of Professor James McGann of the Think Tanks and Civil Societies Program (TTCSP) at the Lauder Institute, University of Pennsylvania. JICA-RI has been participating since 2016. This year, under the theme "Managing Global Turbulence and Transitions: The Role of Think Tanks," six plenary panels and five breakout sessions were held.

Ohno took the stage with representatives of think tanks from Brazil, Argentina, Italy, Kenya, Poland and the United States at the public session "Managing Global Turbulence and Transitions: National, Regional and Global Perspectives" on Dec. 11. The speakers talked about the political, economic and social issues each country faces, as well as common challenges such as capacity constraints in responding to the speed of technological innovation. They exchanged views on how think tanks promote understanding of various issues among policymakers and the public.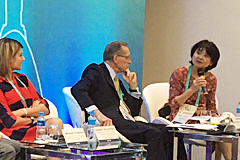 Ohno emphasized the unique role of JICA-RI as an arm of JICA that implements development cooperation on the ground in developing countries, saying, "We are living in turbulent and difficult time but many of the world's problems today are rooted in development challenges, such as poverty, inequality, conflict, unemployment and the middle-income trap. So we need to think globally and act locally, or put it another way, 'glocally' to solve country-specific development problems."

She also introduced JICA-RI's research projects "Contextualize International Cooperation for Adaptive Peacebuilding Pathways" and "Leave No One Behind—Time for Specifics for Sustainable Development" (joint project with the Brookings Institution), which address JICA's core mission to promote human security and contribute to achieving the Sustainable Development Goals (SDGs). Regarding the emerging challenge of digital innovation, she pointed out the importance of examining opportunities and risks in light of the stages of industrial development and demographic trends in each country, and considering response measures in a concrete way.