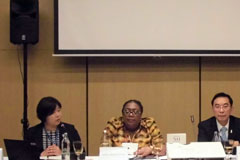 The JICA Research Institute (JICA-RI) conducted a side meeting on Jan. 29 at the 14th Prince Mahidol Award Conference (PMAC2020) / UHC Forum co-hosted by JICA and other organizations in Bangkok, Thailand, from Jan. 28 to Feb. 1, 2020. The theme was "Leaving No One Behind in Achieving UHC: Challenges and Solutions to Reaching Vulnerable Populations Including Refugees and Migrants through Primary Health Care (PHC) and Innovation." Approximately 50 people attended, including government officials, development partners, NGO members, researchers and consultants.
This side meeting was jointly hosted by the Health Systems Program, Bloomberg School of Public Health, Johns Hopkins University; the Institute for Global Health Policy Research (iGHP) of the National Center for Global Health and Medicine (NCGM); and the Waseda University Institute of Asia-Pacific Studies (WIAPS). The meeting was planned by the researchers who wrote chapter 7, "Vulnerable Populations and Universal Health Coverage," of the book "Leave No One Behind: Time for Specifics on the Sustainable Development Goals," the result of a joint research between the JICA-RI and the Brookings Institution.

At the beginning, JICA-RI Executive Senior Research Fellow Makimoto Saeda, who is one of the authors, introduced the book and the concept of the meeting.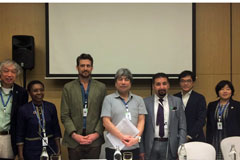 This was followed by Part 1, for which Krishna Rao, an associate professor at Johns Hopkins Bloomberg School of Public Health served as moderator, and it involved a discussion on the role of Primary Health Care (PHC) in promoting UHC and improving access for vulnerable populations. Discussion centered on the role of PHC and efforts to promote UHC in Ghana, Sudan and Thailand. After comments from civic society organizations, Makimoto asked questions about what we can do as a development partner to provide preventative and health promotion services for the healthcare system and to monitor the efforts to achieve the 2030 Agenda's call to "leave no one behind."

For Part 2, Professor Katsuma Yasushi of Waseda University moderated the session. Following a report from the United Nations University (UNU) on migrants and refugees, representatives from the United Nations High Commissioner for Refugees (UNHCR), the International Organization for Migration (IOM) and the United Nations Relief and Works Agency for Palestine Refugees in the Near East (UNRWA) each presented their initiatives regarding the development of digital personal health records related to migrants and refugees. They explored the possibility of collaboration in developing shared tools in the future. UNRWA also reported on the progress of the update to the electronic maternal and child health handbook developed and introduced through cooperation with JICA, and on the on-going development of electronic Non-communicable Disease handbook for lifestyle-related diseases.