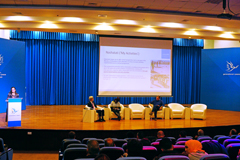 On Feb. 12, 2020, a conference entitled "Sport for Refugees in Jordan: Programs, Challenges and Prospects" was held in Amman, the capital of Jordan, as part of the JICA Research Institute's research project "Peace through Sports."

Based on the perspective of peace and development through sports, this research project aims to clarify the actual state of the effects of development assistance through sports, which has not been sufficiently researched in the past, by focusing on social capital such as respect and trust between various stakeholders (athletes, spectators and government officials) related to JICA's sports support, as well as between different religions, ethnic groups, tribes, genders, and minorities. The research on South Sudan and Tanzania is being conducted by Professor Mitsuaki Furukawa of the University of Shizuoka, the lead researcher of the project, and that on Jordan by JICA Senior Research Fellow Zubaidullo Ubaidulloev.

This conference was held to share knowledge on sports assistance for refugees in Jordan and the Middle East, and to promote peace building through sports, in cooperation with Generations For Peace (GFP), a Jordan-based NGO. Approximately 60 people from various organizations engaged in sports assistance for refugees in Jordan attended the conference. The bodies included the Jordan Olympic Committee and other sports-related organizations, UN organizations such as the Office of the United Nations High Commissioner for Refugees (UNHCR) and the United Nations Children's Fund (UNICEF), development assistance organizations, universities and NGOs.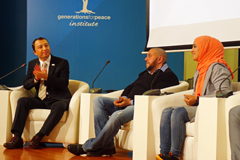 Following opening remarks by Miyahara Chie, chief representative of JICA Jordan Office, Ubaidulloev, who served as the general host, gave an overview of the research project. Ubaidulloev also mentioned that JICA has actively contributed to sports-related peace-building through the activities of the Japan Overseas Cooperation Volunteers since the 1960s, and that JICA is working to promote physical education, to support refugees, disabled people and women, to train athletes, and to contribute to competitive sports under the "Sports for Tomorrow" program for the 2020 Tokyo Olympic and Paralympic Games.

This was followed by a keynote speech by Mark Clark, CEO of GFP. He said GFP is a peace-building NGO established by Prince Feisal Al Hussein of Jordan in 2007, and that it carries out various sports, art, advocacy, dialogue and empowerment activities, targeting children, young people and adults. In particular, he emphasized that sports can bring about new ways of thinking or attitude, including willingness to understand, cooperate and build trust with others, which can in turn change people's behavior and achieve peace-building.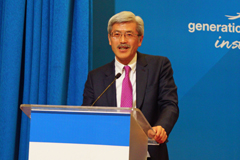 In the following session, Furukawa moderated and representatives from UNHCR, UNICEF and the German Federal Enterprise for International Cooperation (GIZ) introduced their support activities and shared information on their main issues and achievements. In addition, four other sessions were held with discussion on themes including "Sport for Unity and Co-existence between Refugees and their Hosts," "Sport for Recovery of Refugees from the Trauma of War" and "Sport for Education and Individual Development of the Refugees."

In his speech at the closing ceremony, Furukawa said that the conference demonstrated that many projects related to peace and development through sports are being implemented in Jordan. Recalling his experience of supporting the unity and reconciliation of the people of South Sudan through a national sports tournament called "National Unity Day" when he was chief representative for the JICA South Sudan Office, he closed the conference by saying that while JICA has yet to implement many sports projects, "Sports have great potential to promote development and peace."