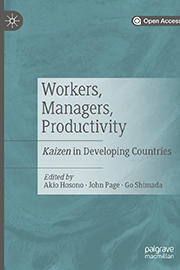 The JICA Ogata Sadako Research Institute for Peace and Development and the Global Development Network (GDN)have conducted a joint research project titled "Quality and Productivity Improvement in the Private and Public Sectors: Roles and Lessons from Kaizen Approaches." This project focuses on the implementation of Kaizen, a Japanese management technique, in private and public sector activities in developing countries to analyze the success and challenges encountered in productivity improvement.

As the culmination of this joint project, an open access book titled "Workers, Managers, and Productivity: Kaizen in Developing Countries" was published by Palgrave Macmillan in February 2020; the book documents how Kaizen has been implemented and disseminated in developing countries while assessing its effectiveness for companies/enterprises of all sizes, large, medium, and small.

The book can be downloaded for free from the publisher's website.