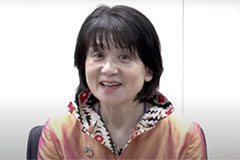 Ohno Izumi, the director of the JICA Ogata Sadako Research Institute for Peace and Development, gave a briefing at the United Nations' (UN) Peacebuilding Commission (PBC) consultation on "Institution Building and System-Wide Support for Peacebuilding and Sustaining Peace," which took place online due to the COVID-19 pandemic. She highlighted the practices in the Philippines and Uganda in her video briefing to explain how institution building from a social and economic aspect is integral to peacebuilding and sustaining peace.

The consultation is a part of the processes of the 2020 Review of the UN Peacebuilding Architecture, which is conducted every five years to hear from UN actors and member-states on how their support for strengthening institutions contributes to conflict prevention, peacebuilding and sustaining peace.

Additionally, video briefings were given by Achim Steiner, administrator, UN Development Programme (UNDP); Qu Dongyu, director general, UN Food and Agriculture Organization (FAO); Jake Sherman, director, Brian Urquhart Center for Peace Operations, International Peace Institute; Tedros Adhanom Ghebreyesus, director general, World Health Organization (WHO); and Jennifer Widner, director, Innovations for Successful Societies, Woodrow Wilson School of Public & International Affairs, Princeton University.

Click the link below to view the video briefings.

Related link