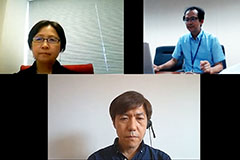 On June 24, 2020, the JICA Ogata Sadako Research Institute for Peace and Development (JICA Ogata Research Institute) and the Office for Climate Change, Global Environment Department, JICA, jointly held a webinar entitled "The Coronavirus Era Considered in Terms of Global Environmental Issues." Two researchers from Future Earth Japan were invited to discuss the topic.

Adachi Ichiro, executive senior research fellow at the JICA Ogata Research Institute, who served as the facilitator, said it's been a quarter century since the 1992 Rio Summit paved the way for the Sustainable Development Goals (SDGs) adopted in 2015 as a consensus of the international community. In the meantime, global warming has been progressing. In light of the prevalence of the novel coronavirus disease (COVID-19), he said, he would like to hear suggestions based on efforts by Future Earth and others surrounding whether a transformation to a new social structure can be made, and what kinds of issues that involves.
Kasuga Fumiko, Global Hub director, Japan, Future Earth Secretariat, explained the background behind the establishment of Future Earth, which promotes international collaborative research programs for the realization of a sustainable global society. She also gave an organizational overview and explained its initiatives: In this era, human activities have a major impact on the global environment, and they are rapidly and intricately interrelated, so it is necessary to establish dialogues and collaborations that transcend specialized fields and national and regional frameworks. She went on to explain that Future Earth has established bases all over the world and is conducting cutting-edge research in various fields in cooperation with various actors, including international organizations, private companies, educational institutions, NGOs and local governments. In response to COVID-19, Future Earth set up a web portal to disseminate and share information on the activities of partners connected through a wide range of networks. It also held an online open forum and webinars to explore the impact of COVID-19 scientifically and encourage more in-depth discussion on how it can contribute to the transformation of the society.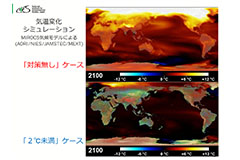 Next, Emori Seita, deputy director, Center for Global Environmental Research, National Institute for Environmental Studies, who is one of the leading Japanese experts on future projections and risk studies on climate change, gave a presentation on the climate and COVID-19 crises and major social transformation. Regarding the impact of COVID-19 on the Paris Agreement, which aims to limit the rise in global mean temperature to no more than 1.5°C above the pre-industrial era, he mentioned that we should continuously to tackle the climate change crisis.

CO2 emissions in 2020 are expected to decrease by about 7 percent from the previous year due to the spread of COVID-19, which has caused people to stay home and halt economic activities, but the impact of this on atmospheric CO2 concentration and temperature is small, he said. He explained that a 7 percent annual reduction in CO2 emissions would make it possible to achieve the 1.5°C target set out in the Paris Agreement. And, even though the amount of gas emissions has been reduced due to the COVID-19 pandemic, it does not contribute to stopping global warming. He added that the continued use of the existing electric energy infrastructure is likely to generate more than 1.5°C of CO2 emissions according to scientific analysis. He stressed that it is quite important to consider alternative ways such as renewable energy to achieve the long-term temperature goal set out in the Paris agreement. He concluded his presentation by indicating that COVID-19 reaffirmed the importance of the decarbonization of socio-economic systems.

In the question and answer session that followed, Kasuga replied to the question "What kind of discussion is there about green recovery to promote recovery from the economic loss caused by the COIVD-19 in a manner consistent with the Paris Agreement?" She said it has become apparent that impoverished people are more affected by COVID-19, and it has been strongly recognized that the same inequality exists with the climate crisis. She also noted that in Europe, leaders called for an EU Recovery Fund with a view to eliminating regional and intergenerational disparities and inequities, and to providing financial assistance through research in the field of the global environment.

In response to the question "Comparing the COVID-19 crisis with climate change, don't you think there is a big difference as to whether people feel personally threatened?" Emori said he would like to see researchers communicate information to Japanese citizens in a way that is easy-to-understand to bring about a major change in their perception and a recognition that climate change measures threaten their quality of life.

Currently, the JICA Ogata Research Institute is conducting research through the climate change research project "Economic Evaluation of Adaptation Measures to Climate Change under Uncertainty." In the project "The Challenging Issues of Environment/Climate Change Institution and Policy Under the SDGs Regime," it will conduct research to utilize knowledge of environmental systems and policies to consider new social systems for COVID-19 countermeasures.