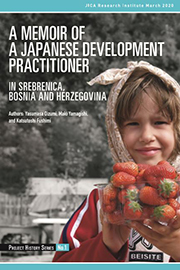 The JICA Ogata Sadako Research Institute for Peace and Development (JICA Ogata Research Institute) published a book entitled "A Memoir of a Japanese Development Practitioner: In Srebrenica, Bosnia and Herzegovina" in March 2020. This was the first work translated into English for the "Project History Series," which reviews JICA's projects to date and analyzes their trajectories and outcomes.

As the year 2020 marks 25 years since the Srebrenica massacre, Fushimi Katsutoshi, assistant director of the JICA Ogata Research Institute and one of the authors of this book, introduced the book in a blog post on the Global Delivery Initiative (GDI) website to share how JICA had been a catalyst in promoting ethnic reconciliation.

To strengthen knowledge sharing, JICA Ogata Research Institute has partnered with the GDI, which is a knowledge platform of a community of international development organizations led by the World Bank.
Click the link below to read the blog post.
JICA's Project Histories Series: First English-Language Title Focuses on Peacebuilding in Post-War Bosnia (GDI website)