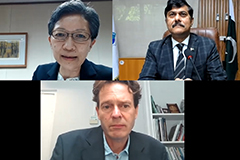 On Sept. 7, 2020, Muto Megumi, deputy director of the JICA Ogata Sadako Research Institute for Peace and Development, spoke at "COVID-19 and Japan's Coordinated Development Responses in Asia," a webinar hosted by the Royal Institute of International Affairs (Chatham House). The webinar was designed to discuss the ways in which Japan's Official Development Assistance, having a track record of partnership with various actors, particularly in water and sanitation, is reinventing partnerships in response to the impact of the novel coronavirus (COVID-19), and what should be the new shape of development assistance in the future.
Muto emphasized that as the conventional delivery of development assistance is not possible during the pandemic, it is essential to co-create and share knowledge. She also mentioned that in response to COVID-19, JICA is making preparations to support the strengthening of medical systems, including hospitals and research institutes, in addition to providing budget support. Focusing on water and sanitation, she stated that three billion people or 40% of the world's population do not have access to soap and water and cannot wash their hands at home to prevent the spread of COVID-19. According to her, about one billion people in developing countries who are living in densely populated informal settlements are at risk. Lastly, Muto said that long standing JICA water utilities partners are facing financial difficulties because they cannot collect water charges due to economic stagnation and lockdowns.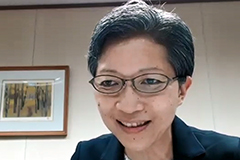 Further, she discussed that JICA's cooperation in the water provision field was evolving into a multifaceted cooperation network before COVID-19, and it has been transforming itself into a learning community in Asia as well as Africa, including Japan's water utilities. She also explained that in March and April 2020, existing networks were mobilized to implement support measures to protect essential water supply workers. In addition to responding to the needs for chemicals, such as chlorine, hand-washing campaigns were launched in countries such as Nepal, Pakistan and Bangladesh. According to her, just as the challenges of climate change need to be addressed by multiple sectors, in response to COVID-19, JICA began multi sectoral efforts to establish water supplies and hand-washing facilities in public health centers, schools, and public transportation facilities by facilitating cooperation between the water, human development, and urban development departments. Muto also noted that JICA's business model is developing into a new stage based on relationships of trust with partners, developed by supporting capacity building in technical and organizational management.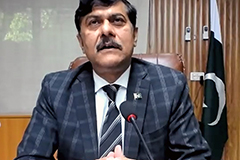 This was followed by a presentation by Syed Zahid Aziz, Managing Director, Water and Sanitation Agency (WASA) in Lahore, the second largest city in Pakistan. The agency is a long standing JICA technical cooperation partner.
Zahid began by explaining that WASA is responsible for the design, management, operation and maintenance of water supply and sewage systems, and water charge collection; however, during the COVID-19 pandemic, it has also disinfected water and sewage, supplied protective and disinfectant supplies to field staff, and taken on a variety of new challenges to continue operations. New initiatives included remote work in administrative departments, the introduction of online fee collection systems, including WhatsApp and Facebook, and the outsourcing of billing services. He mentioned that water bowsers had also been installed, including hand-washing stations and drums to enable people to wash their hands, disinfectant vehicles deployed to roads, and walk-through disinfecting tunnels and gates installed at the entrances to public facilities. WASA is leading other efforts, including the free distribution of soap to low-income communities, the production of sanitizers and disinfectants at laboratories, and support for effective lockdowns by identifying areas with higher numbers of infected people through a sewage analysis in lockdown areas in cooperation with universities.

WASA has shared the knowledge gained from these challenges with other water utilities and partners throughout the country through webinars, Zahid explained. Based on this experience, he thinks it is important to introduce IT technology into each business unit, use outsourcing as much as possible, develop contingency plans, and share knowledge and experience.
During the Q&A session, participants discussed the impact of the concept of human security on JICA's COVID-19 measures, budget updates, and the promotion of cooperation and co-creation with various stakeholders.
Related Link