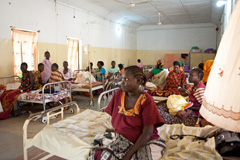 The JICA Ogata Sadako Research Institute for Peace and Development (JICA Ogata Research Institute) published a policy paper entitled "Resilience to COVID-19 from the 'Quality Growth' Perspective: A Proposal of Medical Infrastructure Investment."

The paper was written by Hirota Koki, a visiting fellow at JICA Ogata Research Institute. It considers how to respond to the COVID-19 pandemic, that is, how to establish medical recuperation facilities for mildly symptomatic or asymptomatic COVID-19 patients, from the perspective of quality growth that is defined as growth that is inclusive, sustainable, and resilient. It specifically focuses on redundancy, a factor that strengthens resilience, referring to example cases in Japan.

This is a translated version of a Japanese paper and is the outcome of JICA Ogata Research Institute's research project "Study on 'Quality Growth.'"

The paper can be downloaded via the link below.