On Dec. 5-6, 2020, the 31st Japan Society for International Development (JASID) Annual Conference was held online. The overall theme of this conference was "Time for Change: Innovation for Inclusive Society" and researchers from the JICA Ogata Sadako Research Institute for Peace and Development (JICA Ogata Research Institute) presented their findings. A summary of the presentations given by each research cluster is provided below.


Peacebuilding and Humanitarian Support
At the "Context-Specific Peacemaking Amidst Complexities" roundtable, the following experts made case reports under the theme of situation-adapted conciliation: Taniguchi Miyoko, JICA's senior advisor on peacebuilding, who served as chair of this roundtable; Muto Ako, executive senior research fellow at JICA Ogata Research Institute; Rui Saraiva, research fellow at JICA Ogata Research Institute; and Tanaka Sakabe Yukako, assistant professor at Aoyama Gakuin University. They reported on cases in Southern Philippines, Syria, Mozambique and Timor-Leste, respectively. Higashi Daisaku, professor at Sophia University and Kubota Yuichi, associate professor at Nihon University, participated as panelists, to discuss the benefits of getting local actors involved while adapting to complex and fluid situations.
Human Development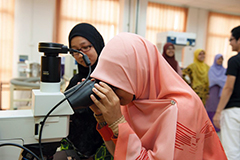 JICA Ogata Research Institute Visiting Fellow Kuroda Kazuo, also a professor at Waseda University, served as a facilitator for the "Education and Communities" session. Based on the findings of the research project "Japan's International Cooperation in Education: History and Prospects", Kayashima Nobuko, senior research advisor at JICA Ogata Research Institute, gave an oral presentation under the theme "Japan's Cooperation in Higher Education: Establishing and Developing Colleges in Developing Countries." Kayashima explained how Japan's support in the establishment and development of higher education institutions changed over the years from the 1960s until today, along with the background of these changes. She mentioned that new ways of cooperation are now in need. Active discussion with the audience followed, covering topics including collaboration with Japanese universities and the government, future prospects of strengthening higher education through collaboration with emerging/developing countries, and based on those, the roles of Japan's official development assistance (ODA).

JICA Ogata Research Institute Research Officer, Tsujimoto Atsushi, gave a poster presentation (slides with voice-over narration) with the theme "The Roles of Technical and Vocational Education and Training (TVET) in Conflict-afflicted Countries: A Case of Japan's Assistance for the Reintegration of Ex-Combatants in Rwanda." By reviewing international discussions and introducing this case of Japan's assistance in Rwanda, he discussed about TVET assistance in conflict-afflicted countries, as well as remaining challenges. Audience could give questions and comments online, and discussed topics such as the difference between development assistance and peacebuilding assistance.

In addition, it was announced during the plenary meeting that the book "Nihon no Kokusai Kyoiku Kyoryoku: Rekishi to Tembo" (Japan's International Cooperation in Education: History and Prospects) has won the Japan Society for International Development (JASID) Special Award 2020. A video message on winning the award from Kayashima and Kuroda, the editors of this book, followed.

Economic Growth and Poverty Reduction
In a session "Empirical Microeconomic Analysis in Developing Countries: A Research Case Using Household Survey Data," JICA Ogata Research Institute Research Fellow, Yamada Eiji, served as a facilitator. Asaoka Hiroaki, visiting fellow at the Institute, gave a presentation titled "Empirical Analysis of Changes in Water Usage Following the Construction of Urban Water Supply Infrastructure in Developing Countries: Case Study of the Urban Water Supply Project in Myanmar." Taking the JICA's grant aid project "Project for Improvement of the Water Supply System," conducted in Mandalay, Myanmar as a case study, Asaoka presented an analysis of changes in water usage trends and wellness levels among residents following the start of drinking water supply services. Following his analysis, which was based on data from the Institute's original surveys, he also provided observations on the significance of urban water supply projects.
Global Environment
To provide an interim report of the research project "The Challenging Issues of Environment/Climate Change Institution and Policy Under the SDGs Regime," Adachi Ichiro, executive senior research fellow at JICA Ogata Research Institute, jointly organized the session "Efforts on Environmental and Climate Change Policies by Emerging Countries Under the SDGs Regime and Their Challenges" with co-researchers of the project. He reported challenges in developing countries related to environmental institutions and policies, efforts by countries and cities to address climate change, and updates on recent efforts to address waste issues. An active Q&A session took place with speakers answering questions from the facilitator. This session covered topics like the need of policy innovation for recent major shifts related to climate change such as the aim to realize a carbon-neutral society by 2050, opening up opportunities for future communication on research findings.
Development Cooperation Strategies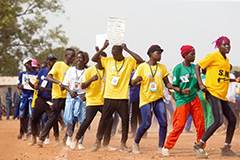 In the "Conflict and Peace" session, Furukawa Mitsuaki, professor at the University of Shizuoka, presented on the possibility of peace and unity through sports, based on the research project "Study on Peace and Development through Sports." He reported on the analysis on the perception of conflicts related to social capital among athletes who participated in National Unity Day, a national sports event in South Sudan, and the results of an investigation on the changes in their perception and actions through this event. Furthermore, he pointed out important issues in South Sudan, including the position of sports within sociocultural contexts, strategies unrelated to sports, and the possibility of promoting the involvement of political actors.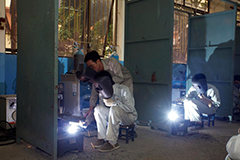 During the session "Japan's Experience and Future Prospects in Industrial Development Cooperation in Developing Countries: Looking at the Intellectual Roles of Japan," Ohno Izumi, senior research advisor at JICA Ogata Research Institute and also a professor at the National Graduate Institute for Policy Studies, served as chair. The interim report of the "Research Project on the Japanese Experience of Industrial Development and Development Cooperation: Analysis of Translative Adaptation Processes," were presented by the following: Amatsu Kuniaki, professor at Yamaguchi University; Yamada Minoru, executive senior research fellow at JICA Ogata Research Institute; Mori Junichi, ILO's chief technical advisor (former research fellow of the JICA Ogata Research Institute); and Jin Kimiaki, JICA's senior assistant director. The presentation showed that this project analyzes how Japan's industrial development cooperation in the fields of industrial policies, industrial skills development and productivity growth in developing countries enhanced translative adaptation processes, which adapt foreign knowledge and technologies to the specific context of recipient countries and make them endogenous. An active dialogue between the audience and the facilitators, Yanagihara Toru, visiting professor at Takushoku University, and Goto Kenta, professor at Kansai University, took place. Participants made various comments, including "In providing assistance in the field of industrial development, it is important to adjust goals and processes based on the circumstances of the recipient country" and "When we discuss practical methods of translative adaptation processes from the perspective of global value chains, we must recognize the need to develop industrial skills, bearing in mind the relationship with overseas companies as well as domestic companies."

JICA Ogata Research Institute Executive Senior Research Fellow Shiga Hiroaki participated in the "ODA and Political Environment" session and gave a presentation titled "Is Russia Giving Out 'Rogue Aids'? The Reality and Uniqueness of Russian Aids and Their Causes." Shiga argued that Russia is in a unique position based on international political consideration, neither belonging to the donor community in Western developed countries nor to the donor bloc of the South-South cooperation led by China and India. Fujitani Takeshi of Asahi Shimbun, the facilitator of this session, appreciated Shiga's work as being meaningful, leveraging valuable data to shed light on not well-known Russian aids. Fujitani commented, "We can see that the loss of stability of Russia's position within the global community after the Cold War has been causing changes in Russian aid policies."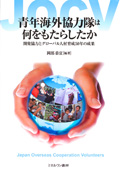 At a session "JASID Book Talk," Okabe Yasunobu, JICA Ogata Research Institute visiting fellow and also a professor at Tohoku University, introduced the book "Seinen Kaigai Kyoryokutai wa Nani wo Motarashitaka—Kaihatshu Kyoryoku to Gurobaru Jinzai Ikusei 50 Nen no Seika" (Provisional translation: What Japan Overseas Cooperation Volunteers Led to -The Achievements of 50 Years of Development Cooperation and Global Human Capacity Building), which is one of the products of the research project "An Interdisciplinary Study of Japan Overseas Cooperation Volunteers (JOCV)" and the winner of the Japan Society for International Development (JASID) Special Award 2019. He gave a presentation on how this book is being received, referring to four reviews. Furthermore, Sekine Hisao, professor at the University of Tsukuba, who authored Chapter 8 of this book, referred to the psychological changes (i.e., disappointment) of JOCV regarding how the achievements of their activities are often said to be not very visible. He however, pointed out that JOCV grow personally and the interaction with them remains remembered among the locals.