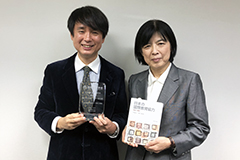 In September 2019, the JICA Ogata Sadako Research Institute for Peace and Development (JICA Ogata Research Institute) published the findings of its project, "Japan's International Cooperation in the Education Sector: Historical Background & Situation Analysis" in a book titled "Nihon no Kokusai Kyoiku Kyoryoku: Rekishi to Tembo (Japan's International Cooperation in Education: History and Prospects)" (available only in Japanese). This book, published by the University of Tokyo Press, has been selected as the winner of the Japan Society for International Development (JASID) Special Award 2020. The award recognizes excellent research by JASID members in the field of international development and was announced at the 31st JASID Annual Conference, held online on Dec. 5 and 6, 2020.

Kayashima Nobuko, senior vice president of JICA and senior research advisor to the JICA Ogata Research Institute, served as an editor of the book. Commenting on the award, Kayashima expressed gratitude for the achievement: "This book represents the culmination of this research project, which analyzed and recorded over half a century of the history of Japan's international cooperation in the education sector based on extensive historical materials and new data. Numerous researchers, practitioners and staff members working in the education development field participated in the project. I want to share my joy for this award with all those involved." Co-editor Kuroda Kazuo, a visiting fellow of the JICA Ogata Research Institute and professor at Waseda University, said, "The idea for this book grew from the recognition that international educational cooperation is at a turning point in this era of the Sustainable Development Goals. I hope that it can serve as a compass, guiding Japan into the future of international educational cooperation."

Based on the achievement of this book, a new English book is under preparation.