On Feb. 5, 2021, the Japan Institute of International Affairs (JIIA) and the Asian Development Bank Institute (ADBI) co-hosted the online panel discussion "Why are think tanks important in times of crisis?" Takahara Akio, director of JICA Ogata Sadako Research Institute for Peace and Development (JICA Ogata Research Institute) participated as a panelist, along with Sasae Kenichiro, president of JIIA, and Sonobe Tetsushi, dean of ADBI.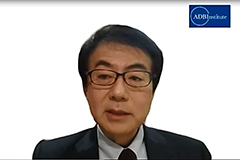 The panelists discussed the significance of think tank activities in times of crisis, such as the COVID-19 pandemic, how think tanks can disseminate information in an easy-to-understand manner, and challenges in the rapidly digitalizing world.

First, Sonobe said ADBI remains committed to studying with developing countries in Asia and the Pacific the challenges facing them. In the wake of the COVID-19 pandemic, ADBI has provided evidence on measures to rehabilitate countries with significant tourism economies that have been hit economically, such as the Maldives and Thailand, as well as on measures to promote green recovery using alternative energy sources, and on economic assistance measures. Sonobe said ADBI has been working to make information available to policymakers in various countries through research, analysis and information sharing, but ADBI is not widely known in Japan. So, Sonobe said, it would like to actively disseminate information to the public in the future.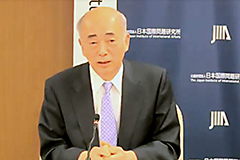 Referring to the fact that JIIA was given the 2020 Think Tank of the Year-Top Think Tank in the World award by the Think Tanks and Civil Societies Program of the Lauder Institute at the University of Pennsylvania and ranked 8th in worldwide think tank rankings, Sasae said one of the reasons for this year's recognition is that the institute has strengthened its public relations activities by providing timely information on its website and holding large-scale events. He said the basic role of think tanks is to analyze research and make policy proposals from a medium- to long-term perspective, but they tend to be more academic, so it is important for them to make efforts to disseminate their findings to the public in an easy-to-understand manner. JIIA would like to strengthen its system to highlight issues that are increasingly exacerbated in the current era, such as COVID-19 and the U.S.-China issues, so people can reflect on them, he said.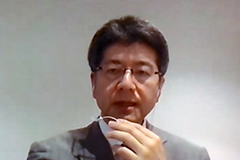 Finally, Takahara said that amid the uncertainty of the COVID-19 pandemic, in which existing values do not always apply, people are suffering from anxiety; many people wonder what will become of the world in the post-COVID-19 era and what they can do about it. He said, pointing to JICA Ogata Research Institute's response to the COVID-19 pandemic, that think tanks have a role to play in alleviating people's anxiety and helping them through trial and error by providing comprehensive knowledge that spans professional fields.

The first measure he raised was the establishment of a Research Team of Comparative and Pragmatic Research on Countermeasures against COVID-19 in the early stages of the pandemic to quickly analyze the current situation of COVID-19 in developing countries and send a message from JICA President Kitaoka Shinichi on the establishment of resilient social health systems and the realization of universal health coverage. The second was the series of dialogues on "International Cooperation in the Post-COVID-19 World," in which Kitaoka has dialogues with intellectuals both in Japan and overseas. Takahara expressed his view that we should change the way development aid has been implicitly modeled after the values of developed countries to a new normal in which we learn earnestly from developing countries that have shown resilience to the COVID-19 pandemic and co-create and share knowledge. Regarding the third measure of the JICA Ogata Research Institute, "Research on Asian Economic and Social Structural Dynamics in Post-COVID-19," he introduced the tentative findings that although the effects of the COVID-19 pandemic and the U.S.-China rivalry can be seen in part, they will not have the impact of changing the basic structure of the traditional value chain.

Takahara said that instead of sticking to a medium- to long-term perspective, think tanks need to be humble enough to constantly reflect on themselves to ensure that they are properly aware of a changing situation. As a unique think tank attached to a bilateral development assistance implementing agency, the JICA Ogata Research Institute will make the most of the "gemba" of developing countries where development work takes place and link its research findings to policies, he said.

In the question-and-answer session, participants asked a wide range of questions, including how think tanks prioritize issues, how the UN works with think tanks, and how Asian think tanks can become more influential.


Related Links