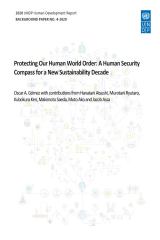 A background paper entitled "Protecting Our Human World Order: A Human Security Compass for a New Sustainability Decade" for the 2020 Human Development Report (HDR 2020) was published in March 2021. This paper was authored by Oscar A. Gómez, then a visiting fellow, with contributions from Hanatani Atsushi, Makimoto Saeda, and Muto Ako of the JICA Ogata Sadako Research Institute for Peace and Development, Murotani Ryutaro and Kubokura Ken of JICA Operations Strategy Department, and Jacob Assa of the United Nations Development Programme (UNDP) Human Development Report Office.

The paper provides a historical review of the overlaps and complementarities between the two concepts—human security and sustainability—as described throughout the series of Human Development Reports. The paper argues that, in the context of the current global crisis, the concept of human security, which rightly addresses concerns over shocks and downside risks, deserves renewed attention and understanding to broaden the interpretation of the concept of sustainability beyond its current narrow focus on environmental problems.

Click the links below for more information.