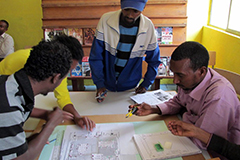 On June 12, 2021, the 22nd Spring Conference of the Japan Society for International Development (JASID) was hosted online by Bunkyo University. At the conference, a roundtable on the topic of "Industrial Human Resources, Productivity, and Kaizen in Developing Countries" was conducted to commemorate the publishing of the Japanese book "Tojyokoku no sangyo jinzai ikusei – SDGs jidai no chishiki to gino" (Tentative translation: Industrial Human Resource Development in Developing Countries – Knowledge and Skills in the Age of the SDGs). Several members of the JICA Ogata Research Institute research project "Japanese Experience of Industrial Development and Development Cooperation: Analysis of Translative Adaptation Processes" contributed to the book as authors. Ohno Izumi, senior research advisor at the JICA Ogata Research Institute and professor at the National Graduate Institute for Policy Studies, who served as co-editor of the book, took on the role of moderator at the roundtable session.
Ohno kicked off the event stating "We need to reflect on Japan's cooperation in the past while putting in perspective the multifaceted dimensions of industrial human resources. It is important to draw the implications and consider challenges Africa faces - where structural transformation is a particularly critical issue - and bridge the gap between research and practice." JICA Ogata Research Institute Research Officer Tsujimoto Atsushi, who is one of the authors of the book, gave his presentation. Reviewing the historical characteristics of Japan's cooperation in industrial human resource development, he stated that "Japan's traditional cooperation in industrial human resource development has been hands-on and taken an 'ingredients approach' at technical and vocational education and training (TVET) institutions, which is different from the current global trend of focusing on support for TVET policies." Jin Kimiaki, senior assistant director of the JICA Ogata Research Institute, also took part in the roundtable as a panelist. He pointed out that "When spreading Kaizen in Africa, it is important for local people to reinterpret technology and knowledge according to the African context (translative adaptation) in a proactive way." He discussed the differences between roles that are necessary in school education and in workplace training.

A wide range of issues were discussed during the plenary discussion, including the significance of "education" from an industrial perspective, the formation of soft skills, the challenges of Kaizen, workforce diversity, and different natures of organizations.