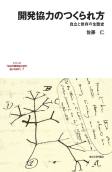 The research findings of the JICA Ogata Sadako Research Institute for Peace and Development's "Japan's Development Cooperation: A Historical Perspective" project have been collected in a seven-volume book series titled "Nihon no Kaihatsukyoryokushi wo Toinaosu (Reconsidering the History of Japan's Development Cooperation)" (available only in Japanese). The seventh volume of the series, "The Making of Development Cooperation: Ecological History of Dependency and Self-Reliance" (written by Sato Jin) was published in May 2021.

This book series positions development cooperation as one of the few tools used by Japan to actively build international relationships following World War II, and unveils the reality of this development cooperation from a variety of perspectives. It covers topics such as what it means to listen to the opinions of the countries and people who benefited from Japan's development cooperation and how Japanese political processes and philosophies have changed over time. From the perspective of historically evaluating international cooperation, the book series explores the image that modern Japan presents to developing countries and delves into the previously neglected history of modern Japan in relation to Asia and the world.

Why do many countries engage in development cooperation activities for the benefit of other countries? The seventh volume, "The Making of Development Cooperation: Ecological History of Dependency and Self-Reliance," focuses on how Japanese development cooperation has evolved over the years, in an effort to discover the answer to this question. Reflecting on the history of development cooperation from three points of view—the Japanese government, the governments of recipient countries, and the people on the ground—the book attempts to unravel the way development cooperation goes through a series of "makings," while exploring the great waves of history which surround the practice of development cooperation from the perspective of dependency and self-reliance.

The book can be purchased at the link below.