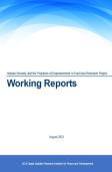 The JICA Ogata Sadako Research Institute for Peace and Development has published working reports on the research project "Human Security and Practices of Empowerment in East Asia."

The project attempts to gain a comprehensive understanding of the human security concept by analyzing the empowerment of marginalized groups and vulnerable communities facing various and complex human security threats. Eight participating researchers wrote these working reports as the interim results of this project.

This project is being conducted at two levels: Level 1 encompasses the country-level analysis of the COVID-19's impact, including the "protection" strategies that are the expected principal means of responding to this crisis, and Level 2 focuses on vulnerable group/population-specific analyses by exploring the observable levels of "empowerment" in each case study.

The reports are mainly based on the Level 1 analysis of eight crucial and interconnected human security issues such as health security, food security, gender, economic security, aging society, forced migration, and peace and justice observed from 5 East Asian countries, Indonesia, the Philippines, Thailand, Vietnam, and Japan.

The reports can be downloaded via the link below.