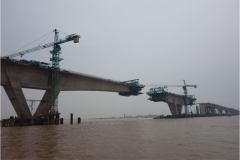 A policy brief by Endo Kei, a research fellow at the JICA Ogata Sadako Research Institute for Peace and Development (JICA Ogata Research Institute) and KE Seetha Ram of the Asian Development Bank Institute (ADBI) and University of Tokyo, was published by ADBI in September 2021.

The brief was prepared for "the ADBI-Stanford University Knowledge Sharing Roundtable on City-wide Inclusive Sanitation (CWIS)," held on Sep. 22, 2021. This brief discusses previous and current trends pertaining to the assistance provided by development institutions for the activation of public–private partnerships (PPPs). Moreover, it provides practical suggestions on future approaches that development institutions should apply to enhance the implementation of PPPs in developing countries, especially those in Asia.

The paper can be downloaded via the website of the Asian Development Bank Institute below.