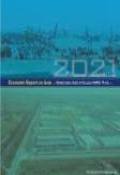 The JICA Ogata Sadako Research Institute for Peace and Development (JICA Ogata Research Institute) published a report entitled, "Economic Report on Asia—Global Value Chain in the Post-COVID-19 Era—" in November 2021.

The JICA Ogata Research Institute established a series of research teams to address a major question: "What will happen in the post-COVID-19 world?" One research team charged with addressing "The Socioeconomic Structure of Asia in the Post-COVID-19 World" examines the impact, influence, and transformative effect of the COVID-19 pandemic on global value chains in Asia, which are traditionally considered a symbol of globalization. This report is an outcome of the research, presenting an analysis of the impact of COVID-19 and the US–China conflict in terms of trade, corporate performance and finance.

The report is available to download in PDF format.