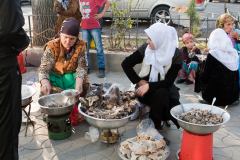 A paper titled, "Resilience Against the Pandemic: The Impact of COVID-19 on Migration and Household Welfare in Tajikistan," by Research Fellow Yamada Eiji of the JICA Ogata Sadako Research Institute for Peace and Development and his colleague was published in the journal PLOS ONE in September 2021.

This study examines the case of Tajikistan, whose remittance inflows relative to its GDP in 2019 amounted to as high as 28.2%. The study intends to provide timely findings on the impacts of COVID-19 on household welfare, including food security and employment, as well as on migration and remittances.

The paper can be downloaded via the link below.