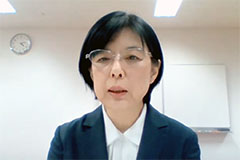 On Jan. 18, 2022, the JICA Ogata Sadako Research Institute for Peace and Development (JICA Ogata Research Institute) hosted the Tenth Knowledge Forum "International Student Mobility and Higher Education in the Age of COVID-19: Reflections from Oxford University and the University of Tokyo" online. The forum was held as a dialogue session between Professor Kariya Takehiko of Oxford University (also a distinguished fellow at JICA Ogata Research Institute) and Professor Takahara Akio of The University of Tokyo (also the executive director of JICA Ogata Research Institute) who discussed their observations of and visions for study abroad and higher education during and after the COVID-19 pandemic.

The forum opened with remarks from Makimoto Saeda, principal research fellow at JICA Ogata Research Institute, and was followed by a presentation on student mobility to Japan and the UK during COVID-19 by Kayashima Nobuko, senior research advisor at the Institute and a member of the research project entitled "Empirical Research on Impacts of Study Abroad in Developing Countries - based on Study Abroad Experiences of Academic Professionals of Major Universities in ASEAN." The presentation revealed that the number of student visas issued by the UK dropped in 2020 but rebounded in 2021, surpassing pre-pandemic levels in 2019. On the contrary, almost no international students were able to enter Japan between 2020 and 2021. Nevertheless, the number of international students enrolled in Japanese universities has slightly increased despite the pandemic.

Kayashima then acted as a moderator, questioning the speakers about trends in international student acceptance at their respective universities. Kariya reported that while the decrease in international students impacted some British universities financially, Oxford University has experienced no significant financial impact from the pandemic as international students are accepted through the same admissions system on almost the same conditions as domestic students. On the other hand, Takahara shared that although international student enrollment is in fact increasing at The University of Tokyo, many are unable to enter Japan, resulting in online attendance from their home countries.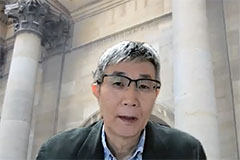 The discussion then shifted to online education as the newest challenge in international higher education. Takahara commented on the pros and cons of online education from the international student perspective, pointing to lack of close communication, inability to experience life on campus, inability to receive practical training and difficulty understanding the significance of studying abroad as downsides. He also cited cases, however, in which academic staff and students were able to communicate more closely than in face-to-face classes by making full use of online conference systems and/or apps like LINE or Slack. Further, he sees potential in the ability for students to participate in classes regardless of their places of residence. Meanwhile, Kariya remarked that in the UK, international students are basically allowed to enter the country and classes and supervising activities are taking place in person. He added that although remote classes do take place in some situations, Oxford University has always had many small classes with just five or six participants so the negative effects of remote classes were very limited. As many arts and social science departments at Japanese universities hold lectures in large classes, there were contrasting degrees of impact based on the difference in lecture style. Furthermore, while the inability to offer practical training or fieldwork was a common concern between the two professors, Kariya pointed out that the impact of the pandemic has uncovered research themes and problems that were not visible in normal circumstances. They include, for example, how Japanese politicians have reacted to the pandemic or what kind of phrases are chosen with what nuances in different countries in relation to the pandemic. Such pandemic-related changes in politics, culture, society and public perception are thus providing students with rich new opportunities in comparative research.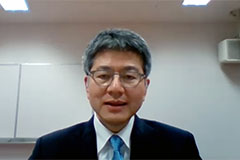 As the discussion turned to the global competitiveness of Japanese universities and attractiveness for the international student market, Kariya offered that Japanese universities are strong in nurturing personal relationships among students and between students and academic staff, as well as offering diverse experiences outside of the classroom. For these strengths to be more positively recognized, however, there is a need to look beyond the purely academic roles of universities and view them as holistic institutions which serve far broader purposes than simply fostering the academic achievement of students. Takahara suggested that increasing job prospects in Japan is also an important factor in attracting international students. Currently, many companies require strong Japanese language skills, but if international students had the option to job hunt and perform duties in English it would greatly increase Japan's appeal. The improvement of English communication in Japanese society as a whole is also critical, he said.

Finally, Kayashima commented that while some government-sponsored international students are now being admitted to Japan, self-financed and privately-sponsored students should also be allowed to enter at the earliest date. She concluded the forum by reiterating JICA's commitment to supporting digitalization in developing countries, and helping to create an environment where all students can enjoy the new possibilities of online education.



JICA Ogata Sadako Research Institute for Peace and Development Knowledge Forum:
In January 2019, JICA Ogata Research Institute launched the Forum as a venue for unfettered discussion on international development by engaging people from diverse backgrounds and perspectives. The Forum aims to serve as a knowledge co-creation platform to facilitate the sharing of knowledge on development cooperation with various stakeholders.