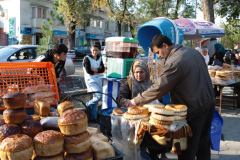 The paper entitled "Immediate Impacts of the COVID-19 Pandemic on Household Economic Activities and Food Security in Tajikistan" is written by Murakami Enerelt, a research fellow at the JICA Ogata Sadako Research Institute for Peace and Development. The paper was published in the Economics of Disasters and Climate Change in January 2022.

This study presents insights regarding its short-term impacts on household economic activities and food security in Tajikistan. Furthermore, it analyzes differing impacts of the pandemic depending on household characteristics and household coping mechanisms to income shocks caused by the pandemic.

Click the link below for more information.