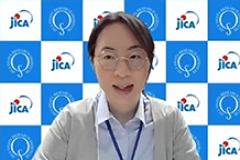 On March 15, 2022, the final lecture of the "Migration History and Multicultural Understanding in Japan: Understanding 'Others' from Historical Perspectives" was jointly held by JICA Ogata Sadako Research Institute for Peace and Development (JICA Ogata Research Institute) and the Japanese Overseas Migration Museum at JICA Yokohama Center. This series of six lectures was held as part of JICA Ogata Research Institute's project "Study on the International Migration and Networks of Japanese Descendants between Japan and Latin America." For this final lecture, Nagamura Yukako, research fellow at JICA Ogata Research Institute, served as the moderator, and Tsuboya Mioko, associate professor, Yokohama City University, gave a talk under the theme "Acceptance of Foreign Residents and Intercultural Cohesion: The Reality of Areas with Many Foreign Residents in Kanagawa Prefecture During the COVID-19 Pandemic."
Tsuboya picked up a large public housing complex (known as "danchi") run by the Kanagawa Prefecture that straddles the border between two cities. With diverse Asian food stores and restaurants in and near the complex, the media has called it an "international danchi." However, Tsuboya asked the audience whether this is really intercultural cohesion just because many foreigners of multiple nationalities reside. According to Tsuboya, who has been studying this danchi for two decades, suburban danchis are where social welfare, safety net, autonomy and intercultural cohesion are intertwined. At this danchi, residents started to move in from 1971. In the 1980s, Indochina refugees were accepted. From around 1990, Japanese people who were orphaned and remained displaced in China after World War II but managed to return to Japan with their families and descendants of those who emigrated from Japan to South America (the "Nikkei") moved in increasingly. Today, there are around 3,600 households and about 20% of them are of foreign nationalities.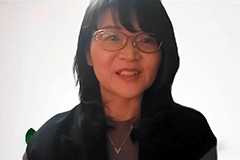 Next, Tsuboya shared the results of a survey conducted prior to the pandemic in 2018 to 2019. 110 people belonging to foreign-nationality households of this danchi responded and their most common nationalities were Vietnam, China and Cambodia in descending order. The mean year of arrival in Japan was 1996 and the mean year of moving into this danchi was 2003. In terms of occupation, many of them worked in manufacturing or light industries, meaning that they tended to have relatively stable jobs. Their intention to settle at this danchi was also relatively high; when asked whether they want to move out if they find better jobs elsewhere, 65.2% answered that they will not move or likely not move. Furthermore, interview results revealed that the reason of settlement there varied among respondents. For instance, one interviewee said that when he was a child, his neighbors took care of him because his parents were busy. He therefore would like to keep on living at this danchi and give back to the community. Tsuboya said that foreigners tend to be only seen as workforce when addressing the challenges of the social integration of foreigners, but it is critical that various aspects, such as their intention to settle, participation in neighborhood associations and local communities, schooling experience and connections with their home countries, are considered.

How has the pandemic changed life at this danchi? Tsuboya shared the current situation based on the results of interviews conducted with five entities involved with foreign residents, including the neighborhood associations, a nonprofit organization supporting refugees, a volunteer group to support livelihoods and a religious group. One example of the changes is that funerals used to be allowed to be held in the danchi's meeting space but such is no longer the case due to measures to prevent the spread of COVID-19. In addition, when more foreign residents could not go to work because of COVID-19 and started to drink on the streets from daytime on weekdays, some people began to report them to the neighborhood association or the police, resulting in stronger surveillance by the local community. Meanwhile, in terms of mutual assistance between foreigners and Japanese people, information on vaccination was swiftly shared and the sense of unity between them became strengthened as there was shared risk alertness on the pandemic. It was revealed that mutual assistance among foreigners was also enhanced. For instance, networks of those from the same country were fully utilized to deal with the financial procedures related to the governmental support fund and allowance. Furthermore, local Buddhist temples and Chrisitan churches held online sermons or services and digitalization progressed, leading to enhanced mutual assistance centered around religious groups. Moreover, as foreigners in Japan became unable to travel to their home countries because of the pandemic, they are increasingly virtually visiting unwell relatives in their home countries and/or attending their funerals virtually, using video teleconference systems. Tsuboya pointed out that how illness and death are handled could also change in the future. She said that she would like to continue to pay attention to the expansion of new platforms and spaces for mutual assistance that utilize online tools and go beyond in-person meetings. However, she reminded the audience that vulnerable groups left behind from these digital platforms should not be forgotten. She then continued that we traditionally often focused only on the mobility of foreign residents, that is, how they move frequently, but the pandemic increased their immobility. Tsuboya concluded by stating that by shedding light on this point, we would be able to better understand the strengths and limits of mutual assistance seen in emergency situations like the ongoing pandemic.

In the Q&A session, questions came from the audience on various topics including the following: the reasons behind the tendency of Vietnamese residents being actively involved in the danchi's neighborhood association activities; the benefits Japanese people who live in areas with many foreign residents may enjoy; and how issues around unspoken rules in the danchi that are unique to the Japanese people could be improved. This lecture reminded the audience that diverse perspectives are necessary to realize intercultural cohesion in society.