On April 7, 2022, JICA Ogata Sadako Research Institute for Peace and Development (JICA Ogata Research Institute) co-hosted a webinar with the African Union Development Agency (AUDA-NEPAD) to celebrate the publication of a book titled "Policy Learning for Industrial Development and the Role of Development Cooperation." This was the first event for JICA Ogata Research Institute to collaborate with Policy Bridge Tank, the think tank unit of AUDA-NEPAD responsible for promoting knowledge co-creation.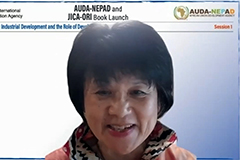 The book is the first of a three-volume series to be published as part of the interim results of JICA Ogata Research Institute's "Research Project on the Japanese Experience of Industrial Development and Development Cooperation: Analysis of Translative Adaptation Processes." The book discusses how Japan formulated and implemented its industrial policies and how Japan has extended industrial development cooperation to developing countries, based on case studies of selected countries. It also introduces the concept of translative adaptation—a process in which developing countries adapt technologies and knowledge from other countries tailored to their own needs—and stresses the importance of policy learning. The book also shares key features of Japan's intellectual cooperation in support of industrial development, such as the provision of hands-on policy advice and the facilitation of learning processes in partner countries.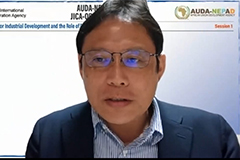 Pamla Gopaul from AUDA-NEPAD, who served as the moderator, began by speaking of the significance of this webinar. She stated that with the economic impact of COVID-19 being extensive, now is the right time to think about Africa's industrialization and development.

Ohno Izumi, senior research advisor, JICA Ogata Research Institute (also a professor at the National Graduate Institute for Policy Studies), was the first speaker. Ohno is a co-chief of this research project and served as an editor of the book. She explained the challenges of industrialization today, the importance of policy learning, and translative adaptation as the key concept of this book. From the perspective of policy learning, she stated that the government can play a lead role in creating a "learning society" in two ways: as a learner of industrial policymaking; and as a facilitator of learning by the whole society, including industries, academia and citizens. Furthermore, Ohno emphasized the importance of dynamic capacity development which allows step-by-step learning of industrial policy formulation through concrete experiences, focusing on the real economy.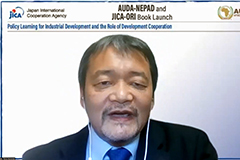 Next, Amatsu Kuniaki, who is the team leader of the Industrial Policy Team of this research project, gave a presentation on the roles and characteristics of industrial policies in post-war Japan and on the experience of Japan in the Meiji era (late 19th to early 20th century) when industrialization was still at its earliest stage. Amatsu noted that in the Meiji era, it took more than 30 years for Japan to start realistic industrialization led by the private sector. He then pointed out that it would be important to shorten the time needed for this process in countries where major industrialization is about to start.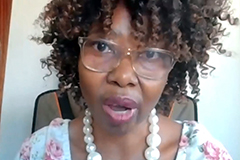 Homma Toru, senior advisor on private sector development of JICA, was the final presenter. He illustrated today's challenges around industrial development and assistance to developing countries in policymaking. Upon roughly grouping megatrends around industrial development into four areas—global value chain, digitalization/Fourth Industrial Revolution, external factors like the COVID-19 pandemic, and environmental/social response—Homma indicated that new opportunities have been brought about by globalization, digitalization and new needs created by solving pandemic-related, environmental or social issues. At the same time, he revealed the challenges such as the need to develop capacity to be able to address such needs.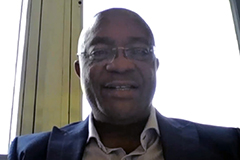 Two discussants commented on these presentations. Yazini April, coordinator at BRICS Research Center, stated that while having learned many Western methods for decades as aid recipients—from structural adjustment to the Washington consensus—we never had the perspective of translative adaptation, which is essential for industrial catch-up. She was particularly interested in Meiji Japan and said that it was helpful to know that Japan tried to industrialize by incorporating necessary elements from overseas into its own social structure. With a view to the African Union (AU) Summit on Industrialization and Economic Diversification, which is scheduled in November 2022, Martin Bwalya, director of knowledge management at AUDA-NEPAD, commented that the knowledge shared in this book is essential resource from the perspective of people-centered development as well. He then stated that Africa should pave the way for its own, Africa-specific industrialization that embraces the cultures, traditions, institutions and values in the region.
In response to these comments, Ohno said that as African countries are diverse, it is essential to take a broader, continental perspective including the process of economic integration, while thinking about the potentials and challenges of development based on country-specific features and situations. Amatsu then mentioned that some economies could try to realize industrialization by aiming to "catch up" with the Western world, as was the case in Japan, South Korea, Taiwan and Singapore. In other countries, this could be difficult. Meanwhile, some countries may be able to pursue paths toward industrialization unique to them. He pointed out that in order to focus on a growing industry and create an environment that enables it to grow further, it is crucial that the government learns about that industry. Homma brought up the importance of entrepreneurship, saying that many opportunities can be created by utilizing digital technologies and it is indeed African countries where leapfrogging can be expected. Further discussion was developed from multiple perspectives, while taking questions from the audience into account.

Yamada Minoru, executive research fellow, JICA Ogata Research Institute, who is a co-chief of this research and one of the authors of the book, gave closing remarks. He said that with the sharing of Japan's experiences and reality-based feedback from African counterparts, this webinar provided an opportunity for mutual learning and knowledge co-creation. Yamada closed the webinar by stressing that the research team would like to further its studies based on the discussion that took place in the webinar and work on another book as a final deliverable.
YouTube
AUDA-NEPAD and JICA Ogata Research Institute Joint Book Launch Webinar (Session 1)