On July 16, 2022, JICA hosted a webinar titled "Human Security in a Drastically Changing World, From Africa's Perspective." Makino Koji, director general of JICA Ogata Sadako Research Institute for Peace and Development (JICA Ogata Research Institute), spoke at the event and discussed human security and Africa with a large audience that mainly consisted of undergrads.

This webinar was the first event of the "JICA x AFPBB News Project: Let's Connect with the World 2022," which was launched by JICA with a hope to make young people have interest in global issues, learn and think, and communicate with others in their generation about them. The project started from a collaboration between AFPBB News, a news website delivered in Japanese by Agence France-Presse (AFP), and Academic Groups Ten University Joint Seminars, an academic group of undergrads studying international relations and/or international politics.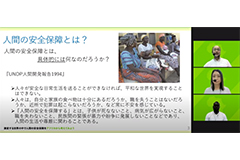 Makino gave a lecture titled "Human Security and Africa Today." He started by introducing human security as a concept to build a society resilient to various threats and protect people's lives, livelihoods and dignity. He added that human security is the foundation of the Sustainable Development Goals (SDGs) and takes on two approaches: protection and empowerment. As examples of the threats Africa is facing today, Makino cited the impacts of the COVID-19 pandemic, increased vulnerability to climate change, and the food crisis caused by the Russian invasion of Ukraine. He then noted that cross-sectoral efforts that apply human security perspectives are necessary in order to address threats that are linked to or are compounded with one another. He explained that existing threats must be analyzed first and then the resilience of the people and society must be enhanced through the two approaches—protection and empowerment—and to do that, collaboration among multiple stakeholders such as governments, NGOs, private companies and international organizations is extremely important. Finally, Makino noted that although Africa has mounting challenges, Africa is more resilient and dynamic than we think: for example, the Maasai people in Tanzania actually use solar panels in the vast savannah and own smartphones. People in some parts of Africa also have creative traditional farming methods that use rocks to allow for tolerance to draughts. Makino concluded by saying that we need to think about what we should do to build a resilient society based on human security in Africa.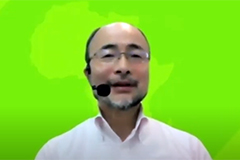 In the second half of the webinar, a panel discussion took place among the following panelists: Professor Sugiki Akiko of the Faculty of Law, Keio University, who is studying armed conflicts in East Africa; Khamis Bol Ajak Aguar, who is originally from South Sudan and experienced the civil war there, and is currently a postgraduate student at Hiroshima University as JICA's long-term trainee; and Makino. Based on firsthand experience, they introduced how the African people live strong in spite of tough and harsh living conditions. At the same time, they discussed what is in need to build a society that allows people to overcome pressing threats and risks and live with dignity.

Here, Makino pointed out how Africa is leading in the spread of mobile payment and said that Africa is very unique with great potential. He then introduced NINJA ("Next Innovation with Japan"), a business planning competition by JICA that supports African social entrepreneurs. When a question came from the floor about some of the issues around digitalization in terms of threats to development in Africa, Makino responded that digital transformation is of extreme importance but has both pros and cons. He added that while we have to be careful about the cons such as cyberattacks, digital transformation needs to be utilized to realize human security, thus the need to look at both pros and cons is a challenge in Africa today. Finally, Makino called for action to the audience by asking everyone to think what human security is, and to realize that, think what action each person can take, no matter how small that action is.
YouTube
Webinar "Human Security in a Drastically Changing World, From Africa's Perspective"(available only in Japanese)