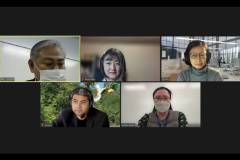 On Nov. 5, 2022, three members of a research project of the JICA Ogata Sadako Research Institute for Peace and Development (JICA Ogata Research Institute) entitled "Human Security and Practices of Empowerment in East Asia" joined and presented on the first day of the two-day annual conference of the Japan Association for Human Security Studies (JAHSS) for 2022. The group formed the panel "Empowerment of vulnerable groups and communities during the COVID-19 pandemic: Reflections from East Asia." This panel, which was chaired by Agarie Hideo of Tohoku University of Community Service and Science, puts together narratives of diverse, vulnerable groups in East Asia who confronted various human insecurities as they simultaneously faced the consequences of the COVID-19 pandemic.

Vu Le Thao Chi of Keio University examined how the Vietnamese urban poor in Ho Chi Minh City continue to struggle despite the poverty alleviation efforts of the government before and during the pandemic. Meanwhile, Jonatan A. Lassa of Charles Darwin University explored the impact of COVID-19 on people living in emergency camps and transitional shelters in Indonesia and the endogenous and exogenous responses to the pandemic between March 2020 and March 2022. Lisette Robles from the JICA Ogata Research Institute completed the panel with an investigation on the impact of the combined crises of the COVID-19 pandemic and the 2020 South Japan Flooding on the development of empowerment for the displaced residents of Kuma Village in Kumamoto who were staying in temporary housing after the disaster.

After the presentations, the panel discussant, Muto Ako of the JICA Ogata Research Institute, raised common discussion points for all presenters, including the interpretation of empowerment for the different contexts of the case studies, the balance between protection and empowerment, and the role of stakeholders in realizing human security.

This panel provided empirical evidence on how the pandemic exacerbated various human insecurities. Moreover, it revealed the resurgence of the empowerment of the affected individuals and communities based on local ownership.