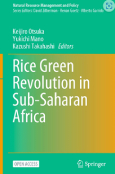 A book entitled "Rice Green Revolution in Sub-Saharan Africa" edited by Keijiro Otsuka, Yukichi Mano and Kazushi Takahashi was published in March 2023.

This book seeks an effective strategy that can facilitate the realization of a green revolution in rice in sub-Saharan Africa. The book is based on more than ten years of inquiries into the determinants and consequences of the adoption of new technologies in rice farming in seven countries in this region.

The PDF of the book can be downloaded for free from the link below.