The JICA Research Institute organized a seminar on why rich nations should help the poor, featuring David Hulme, professor of Development Studies at the University of Manchester. It was held at the JICA Ichigaya building on July 27, 2016. Hulme provided two sets of answers to this question - relating to ethics and self-interest - pointing out the needs to change policies and to connect with citizens.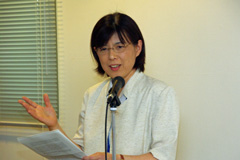 In her opening address, Deputy Director Nobuko Kayashima introduced Hulme, who recently published a book entitled, "Should Rich Nations Help the Poor?" Kayashima said she's been engaged in development cooperation for more than 30 years and is still interested in knowing the answer to the question that is the book's title.

Hulme began his presentation by saying the timing of publishing this book is appropriate because there seems to be a wave of protectionist, isolationist and relatively xenophobic attitudes around rich nations. He said people don't want to hear this criticism, and they want to actually hear the exactly the opposite, warning against the increasing tendency of the world to be indifferent and polarized.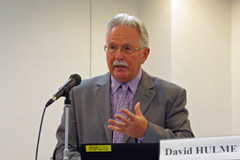 He explained ethical arguments should come from a moral duty (or the common humanity that we have) and a moral responsibility (the rich nations are part of the cause of poverty and deprivation in the world today). He pointed out that the slave trade, which damaged economic and social processes across west and central Africa, is a cause of the poverty in those regions today. He also brought the audience's attention to the fact that such current policies as international trade and climate change are also affecting the poor, as has been the case with slavery.

Next, he discussed reasons why we must help the poor from the perspective of self-interest:
1) To pass on the well-being of rich nations' citizens to their children and grandchildren, we must help the poor.
2) Problems in far-away lands can rapidly become problems in rich countries.
3) Surges in refugees, migration, terrorism, climate change, international crime and new health problems do not recognize borders.

"So trying to be isolationist, trying to avoid interactions with the rest of the world is not likely to solve the sorts of problems that are presented."

Hulme argued that the traditional answer to these challenges has been foreign aid, but it is declining in significance while remittances are increasing rapidly. Private finance is flowing more freely and Chinese finance and investment also are moving around the world, he added. Not only conventional foreign aid, but trade, finance and environmental policy reform - or joined-up policies - must be considered the way forward, he said.

"Business as usual is not an option," Hulme said.

He stressed that rich nations need to recognize the processes of globalization, the implications of climate change that are demanding new models for economic growth, and the expansion of inequality in many parts of the world.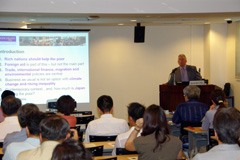 Hulme also commented that NGOs and civil society groups have failed to connect with citizens, in that many NGOs focus on policy-making or the Sustainable Development Goals, and talk to policy elites, professionals and lobbyists, instead of talking to citizens. It is important that NGOs and civil society groups reconnect with citizens, he said.

In the Q&A session, participants raised such issues as the future areas of foreign aid and the way to provide aid. Hulme said when giving aid, we need to make sure aid programs really meet the needs of the country, and that not only international but domestic actors should be included in aid programs to produce the expected result.
YouTube
Interview: 'Why Should Rich Nations Help the Poor?' with David Hulme (JICA-RI Official Channel)