The 11th Shanghai Forum was held in Shanghai, China, on May 28 - 30, 2016. This forum attracts opinion leaders, researchers and policy makers from around the world to discuss global issues with a particular focus on Asia. Naohiro Kitano, director of JICA Research Institute (JICA-RI), attended the session on G20 and international development cooperation. He talked about Japan's experience in development cooperation in line with the concept of "quality growth" as emphasized in Japan's new Development Cooperation Charter.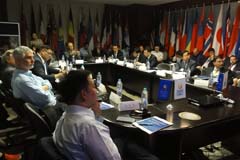 The Shanghai Forum is co-hosted by Fudan University in China and the Korea Foundation for Advanced Studies, and has been held annually since 2005. This year approximately 700 people attended from some 40 countries, including China, Korea, Japan, ASEAN countries, the United States and EU member states. There were 24 roundtables and sessions centering on four main concepts: Integration & Innovation, Coordination & Governance, Green & Development and Cooperation & Sharing. Kitano attended a session on "G20 China (Hangzhou) Summit and International Development Cooperation."

He first talked about Japan's initiative toward the G7 Ise-Shima Summit Meeting, in which the 2030 Agenda was one of the top agendas. Then, he noted that the concept of "quality growth" was introduced in the Charter, which emphasizes three key features - "inclusive," "sustainable," and "resilient" and addressed some JICA projects aimed at such growth.

He presented the "Project for the Eradication of Poliomyelitis" in Pakistan, which employed an OECD DAC-awarded innovative financing scheme referred to as a "Loan Conversion" mechanism, in strategic partnership with the Bill & Melinda Gates Foundation. Under the mechanism, the Gates Foundation will repay the loan on behalf of the Pakistani government if the project is successfully implemented.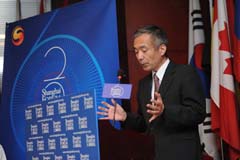 As one of the examples to ensure "Sustainability," he referred to the agricultural development project in the Cerrado, Brazil, where a tropical savanna once considered unfit for agriculture has been transformed into one of the world's most well-known grain-growing regions. As an example to ensure "Resilience", he talked about JICA's comprehensive cooperation to Nepal, a country hit by a severe earthquake last year. He said, "JICA shares Japan's experiences in disaster risk reduction and reconstruction efforts with Nepali partners to make both rural and urban areas the more resilient, based on the Cooperation Strategy to pursue 'Build Back Better' as an overarching principle for realizing resilient society."

Kitano ended his speech by touching upon Japan's development cooperation in Shanghai since the start of the reform and opening-up policy in 1978.