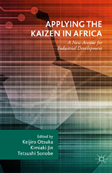 Sub-Saharan Africa, a region long perceived to be synonymous with economic stagnation, has witnessed superior economic growth for the last two decades. This expansion has not, however, been driven by productivity gains that are integral to sustainable and long-term economic development but by high prices of oil and other natural resources.

The editors of this open access book assert that "the prerequisite for making productivity gains the major engine of economic growth is to cultivate management capabilities." They contend that the adoption of Kaizen, a Japanese management methodology for enhancing quality and productivity, would be an effective entry point for industrial development in Africa.

The book also proposes a logical sequence of rendering assistance: Kaizen training for entrepreneurs should be followed by investment in infrastructure and financial support. This strategy is termed TIF, an acronym for Training, Infrastructure investment, and Financial support.

Keijiro Otsuka, a professor of Development Economics at the Graduate School of Economics, Kobe University; Kimiaki Jin, a senior assistant director, Private Sector Development Group, Industrial Development and Public Policy Department, JICA; and Tetsushi Sonobe, a vice president of the National Graduate Institute for Policy Studies (GRIPS) served as editors of this volume.