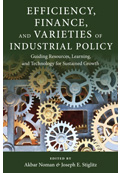 What should be the nature of industrial policy in the new era of striving for "quality growth"? This volume is a collection of the results of the research project "New Perspectives to Industrial Development" conducted jointly between the JICA Research Institute and the Initiative for Policy Dialogue (IPD).

The IPD at Columbia University is led by Joseph E. Stiglitz, a professor of Columbia University and a Nobel Prize winner in Economic Sciences. The theme of this joint research was the role of industrial policy in the world's sustainable development. Industrial policy involves governmental intervention in the market, and has been the subject of policy debates for decades. In recent years, there has been a renewed recognition that the industrial policies implemented by each nation around the world have played a crucial role in the economic growth of those nations since the Industrial Revolution in England. This has garnered increasing attention.

The contents of this volume are presented in three parts, "Part 1: Theoretical and Conceptual Foundations," "Part 2: Development Finance," and "Part 3: Practice and Proposals." In regard to development finance in particular, there are many lessons regarding development finance in developing countries gleaned from case studies of development banks in Japan, India, Europe, and other regions. "A New Structural Economics Perspective" is also advocated.

This volume was edited by Stiglitz and Akbar Noman, a senior fellow at IPD. Contributors include Justin Yifu Lin (former Chief Economist of the World Bank), José Antonio Ocampo (Columbia University; former Under-Secretary-General of the United Nations), João Carlos Ferraz (former Chief Economist of the Brazilian Development Bank), and Carlota Perez (The London School of Economics and Political Science, London University).

The JICA Research Institute is represented in Part 2 (Development Finance) by Visiting Scholar Go Shimada with the article "Inside the Black Box of Japan's Institution for Industrial Policy: An Institutional Analysis of the Development Bank, Private Sector, and Labor" and in Part 3 (Practice and Proposals) by Senior Research Advisor Akio Hosono with the article "Industrial Strategies: Toward a Learning Society for Quality Growth."