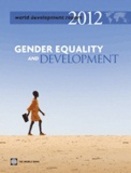 Gender gaps between women and men have seen much progress over the past 25 years. The World Bank data shows that the world has been successful in closing the gap between boys and girls in primary and secondary education in most countries. Still, gaps remain persistent in some fronts. In low- and middle-income countries, about 3.9 million women pass away after giving birth every year, and a large number of girls are either never born due to a preference for sons. Also, many die in childhood or adulthood at the higher rate than that of men, the Bank says.

The latest World Bank's annual report calls for a renewed attention to the theme of gender equality and development, and proposes domestic policy recommendations in major fields from education to economy while points out the importance of the international community's complementary assistance.

JICA-RI's four papers listed below served as background papers for the making of the WDR 2012. Particularly, in the introduction of Chapter 2: The Persistence of Gender Inequality, the report refers to papers including the one by JICA-RI research fellow Takako Yuki's team and mentions the gender disparity in the Republic of Yemen in enrollment rates as the world's largest. Also, as the section of Chapter 4: Promoting Women's Agency describes how social norms on men's role as income providers hinder the effectiveness of policies and public services for empowering women, a paper by Tokyo University's Mari Osawa (commissioned by JICA-RI) is introduced to talk about the situation in Japan.