Nairobi, Kenya
As part of the global actions in tackling the ongoing pandemic, testing for COVID-19 is important for case identification, contact tracing, isolation and management of COVID-19 cases. In support of the COVID-19 national response in Kenya, Japan International Cooperation Agency (JICA) donated PCR test kits to the Kenya Medical Research Institute (KEMRI) to boost its laboratory capacity for COVID-19 testing. The handing over ceremony held in Nairobi on 27th August 2020 was attended by Dr. Rashid Aman, Chief Administrative Secretary at the Ministry of Health, and H.E. Horie Ryoichi, Ambassador of Japan to the Republic of Kenya.
In his remarks, Dr. Rashid Aman was elated to note that this donation by JICA clearly demonstrates the growing confidence that Japan and by extension the global community holds the continent on social-economic prosperity and opportunities. He further noted that among the regional and international collaborators, JICA has been a key partner with KEMRI, in supporting human health, technical capacity building, research advancement and development in the country. He cited the setting up of the Production department by KEMRI with support from JICA that has strengthened research development and innovation capacity. This support has played a key role in the development and production of essential diagnostic kits for diseases such as yellow fever, Rift Valley fever, HIV and Hepatitis among others. Dr Aman thanked JICA for the support that will accelerate the targeted testing of COVID-19 to inform the Government's strategies for containment of the spread of the disease in Kenya.
On his part, H.E. Ambassador Horie reiterated the commitment of the Government of Japan to support the global efforts in responding to the pandemic. He expressed his appreciation to the health workers in Kenya and commended them for their great efforts and sacrifices in the war against Coronavirus. Amb. Horie also highlighted Japan's support towards combating the effects of COVID-19 in Kenya that includes JICA's supply of chlorine to water purification facilities in several counties. Japan has also disbursed to Kenya around Kenya Shillings 340 Million through UNDP and UNICEF to strengthen the health system and provide medical and personnel protective equipment to hospitals. The provision of COVID-19 test kits to KEMRI represents one of Japan's seamless cooperation to Kenya.
JICA has been a key partner of KEMRI since its establishment in 1979. KEMRI is now among the institutions taking a leading role in Kenya's response through various flagship projects among them whole genome sequencing, evaluation of COVID-19 screening kits, production of virus transport media, Point-of-Care test kits and COVD-19 testing. As reported by Dr. Aman, JICA is now planning to support KEMRI's activities for laboratory capacity development at the county level for strengthening preparedness over the coming several months.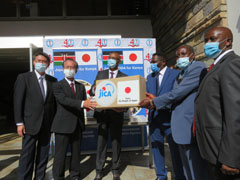 Handing over of testing kits from Japanese Ambassador to Kenya H.E. HORIE Ryoichi (second from the left) and JICA Chief Representative KOMORI Katsutoshi (on the very left) to Chief Administrative Secretary Dr. Rashid Aman (third from the left), Director General KEMRI Prof. Yeri Kombe (third from the right) and Chiarman KEMRI Board of Management Dr. Naphtali Agata (second from the right).
Beyond the interventions highlighted in support of Kenya's response, the ongoing COVID-19 pandemic requires global action by all Governments, partners and communities in order to contain the spread of the disease, limit the loss of lives and implement measures necessary for socio-economic recovery. JICA together with local and international partners has joined the global response to the COVID-19 pandemic as part of its international cooperation activities.